Titus O'Neil Cuts Tone-Deaf "Safe Haven" Promo On WWE Raw
WWE used Titus O'Neil's "good guy" reputation as a shield against recent controversies on Raw.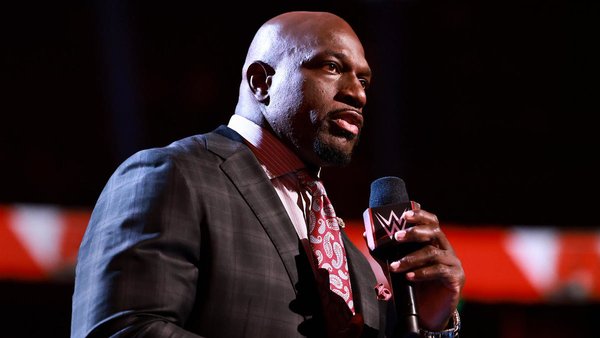 WWE appeared to weaponise Titus O'Neil's glowing reputation against recent controversies on last night's Raw, using its popular Global Ambassador to cut a promo presenting the market-leading wrestling promotion as a "safe haven."
O'Neil opened Raw with an atypical promo for the former flagship show. On this scripted, heavily-agented show, the 45-year-old was made to emphasise WWE's goal of "putting smiles on faces", highlighting the billion-dollar group's philanthropy in promoting good causes without touching "divisive" topics like religion or politics.
"WWE simply wants to make sure we all have a good time," O'Neil added, calling WWE a "safe haven" regardless of race, nationality, and economic status. Titus' passionate "welcome to Monday night Raw!" then brought the opener to an end.
It was an emotional, fired-up segment that engaged the live crowd, who roared their approval as O'Neil brought it to a close. Titus, who almost never appears on company television these days, did an excellent job. High fives, back pats, cheers, and other congratulatory gestures likely awaited him when he returned backstage.
In particular, it's easy to imagine Vince McMahon being delighted with O'Neil's message. Much of it likely came from the 76-year-old's own pen. Vince is, after all, in the midst of scandal, facing multiple allegations of improper sexual acts he has been accused of spending over $12 million of his own money to suppress.
Finding hypocrisy in Titus' promo isn't difficult. On the political front, the Saudi Arabian government currently pays WWE around $50 million a pop to run shows in the country. Part of the Saudi Vision 2030 program, these events, like the rest of the state-funded scheme, exist solely to rehabilitate the image of a country possessing a horrific human rights record, and frequently feature videos tantamount to propaganda. It doesn't get more political than that.
WWE Hall of Famer Kurt Angle recently admitted that his 2005 storyline with Booker T and wife Sharmell was motivated by McMahon discovering Kurt had dated African-American women in the past. Elsewhere, between Roddy Piper's WrestleMania VI blackface and Vince himself saying the N-word live on air in front of Booker T at Survivor Series 2005, it doesn't take much effort to trace WWE's history of racially insensitive content.
And yet last night, a promotion whose figurehead is alleged to have paid a $7.5 million dollar settlement to a former wrestler allegedly coerced into oral sex by Vince himself was presented as a "safe haven."
This PR stunt was as transparent as it was tone deaf. McMahon responded to the first Wall Street Journal story on his alleged infidelities by booking himself for the 17 June SmackDown then defiantly shouting "f*ck 'em!' upon returning backstage. Last night, he exploited Titus O'Neil's universal popularity to spread pro-company propaganda and attempt to flip the narrative while the threat of new information hangs like the sword of Damocles.