Tommy Dreamer Apologises For Dark Side Of The Ring Comments
Dreamer was suspended from his role as an IMPACT Wrestling executive following Dark Side comments.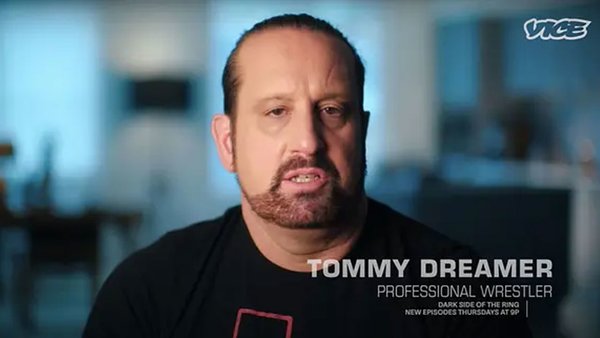 Tommy Dreamer has issued a statement apologising for his comments made on the most recent episode of Dark Side Of The Ring, which led to his suspension from his role as an IMPACT Wrestling Executive.
Last week's episode of the VICE docuseries focused on the infamous WWE Plane Ride From Hell of May 2002. Dreamer, who was one of the show's talking heads, used Twitter to release the following statement after making dismissive comments towards Heidi Doyle's allegations of sexual misconduct against Ric Flair:-
"Regarding my comments on Dark Side of the ring. It was never my intention to offend, hurt, or victim shame anyone. I understand my comments were insensitive and could trigger emotions in someone's own personal past. I do not condone sexual misconduct of any kind. I apologise to anyone I offended. From the bottom of my heart I am sorry."
The episode saw Doyle tell her story on television for the first time, having previously reached a settlement with WWE after alleging a near-naked Flair had forced himself upon her during the flight, making her touch his exposed penis against her will.
To this, Dreamer said the following on Dark Side Of The Ring:-
"He could move his hips, twirl it, and so his well-endowed penis spins around like a helicopter. Hey, he's the Nature Boy for a reason, he's got a hammer on him. Ric Flair's not going to try to impose by force any sexual stuff onto anybody. He's just flaunting, styling and profiling, doing the Ric Flair stuff where everybody's going to laugh about it but obviously, someone took offence to it."
Later in the episode, the 50-year-old compared Doyle's experience to somebody hypothetically taking offense to his haircut:-
"I feel like this is trying to portray someone has a sexual predator, and it's not. It's a joke, it's a gag. Today, it's 1,000% inappropriate. My hairstyle is inappropriate right now. I'm somehow offending someone right now with my double ponytail. How dare I have two ponytails? My answer is I'm 50 years old and I'm happy I have hair. If you're asking me, I've hung out with Ric Flair. I've never seen him try to force his will onto anyone."
The episode aired on Thursday (16 September). By Friday, IMPACT had suspended Dreamer, who works as a producer, creative team member, and on-air talent.
Create Content and Get Paid
---