Vince McMahon To Induct Undertaker Into WWE Hall Of Fame 2022
The boss is taking The Undertaker's 2022 WWE Hall of Fame induction into his own hands.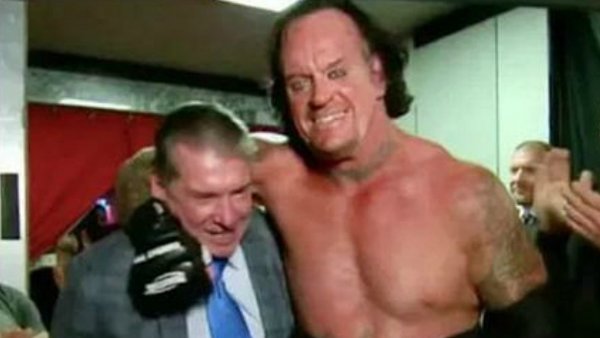 Vince McMahon's reverence for The Undertaker is such that he will personally induct The Undertaker into the WWE Hall Of Fame this year.
The WWE Chairman and CEO broke the news himself during yesterday's appearance on The Pat McAfee Show, saying that he loves 'The Deadman', who is like family:-
"This will be one of the most difficult things I have ever done in my life because I like the guy. I love the guy, not just like, I love the guy. We've known each for so many years and we've been through all kinds of situations, some that, glad didn't make the newspapers and so forth but I mean, you know, when you live on the road like that, you have your family at home but when you live on the road, man, you have to have a family on the road and you have to have people you can count on, rely on, that are loyal and what have you, and trustworthy and not have to look over your shoulder and he's that kind of guy."
Undertaker is the only wrestler to be announced for the WWE Hall Of Fame's class of 2022 thus far. The induction ceremony takes place following the Friday 1 April episode of SmackDown, airing live on Peacock and WWE Network from 10 PM ET.
While WWE had reportedly considered making The Undertaker this year's only Hall Of Fame inductee, it is now believed that they will go with a more conventional class.
Undertaker, 56, hasn't appeared for WWE since Survivor Series 2020, where the company held an empty-arena retirement ceremony for one of its most venerated wrestlers.
Create Content and Get Paid
---