What Stipulation Could Brock Lesnar Vs. Cody Rhodes III Have At WWE SummerSlam 2023
A Dog Collar match may be off the table, but...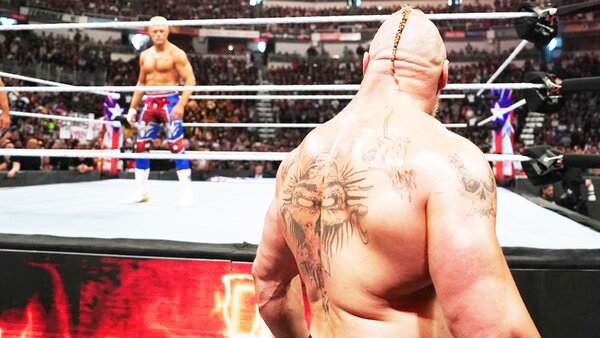 Brock Lesnar vs. Cody Rhodes III looks like it will be stipped up at SummerSlam 2023.
That's according to Dave Meltzer of the Wrestling Observer Newsletter, who claims there's been a ton of talk about adding a stipulation to the pair's next upcoming war at the summer PLE. And one of the ideas being discussed at this point is a potential Bull Rope match between the rivals. However, there are still multiple other ideas being talked about currently and a final decision is yet to be made.
This stipulation involves the opponents being tied together by a Bull Rope, similarly to how a pair of adversaries are connected in a Dog Collar bout, a stipulation that was reportedly rejected when Rhodes pitched it recently.
Meltzer also noted how this was set to be "one of the SummerSlam main events", hinting at WWE once again opting for the multiple main event approach seen recently at Night of Champions.
The two have battled twice already, of course, with Rhodes taking the first win at Backlash, and Lesnar getting revenge at Night of Champions.
But who will walk out of Detroit as the winner of this highly physical rivalry? And what other matches will join Lesnar vs. Rhodes III as "main events" on the night?