Why AEW Has Just Helped Triple H In A Big Way
It's 2022 and WWE have the best storyline in wrestling. How?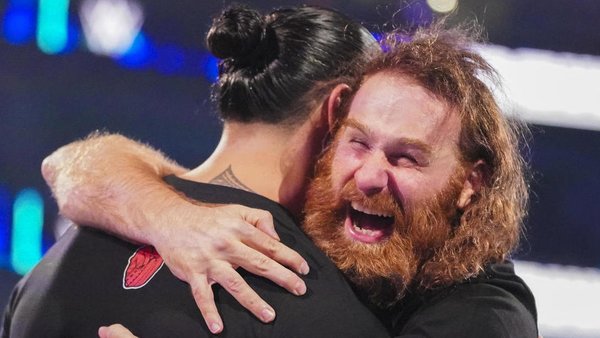 The September 24th SmackDown opening segment featuring Roman Reigns, Sami Zayn, The Bloodline, and a brand new shirt was the sort of thing fans and wrestlers alike dream of.
The wrestlers themselves were having a field day with the excellent material. Reigns and Zayn left the biggest impression as the emotional centre, but the face acting from crucial background players The Usos, Solo Sikoa and Paul Heyman were all exceptional too. As they had to be and as they should be - so often wrestling forgets that it's asking you to receive everything you're seeing as real. It can't be real to fans if it doesn't feel that way to the performers.
And who couldn't be drawn in by the whole thing? The segment - and more on its magic shortly - was that rarest of birds in recent WWE history; it encouraged as much about the future as it did the present.
This, miraculously, is becoming a bit of pattern.
Those that are good with hammers often see nothing but nails, and Triple H loved living that stereotype with his absolutely massive one when it came to beating pushes into the ground as a pro wrestler. A lighter touch in NXT between 2014-2016 proved he had something below the bombast as a booker, but a feverish chase for critical acclaim in the years that followed hit a wall when a genuine alternative scuppered his WWE-mandated one.
And yet, with Triple H now occupying the very hottest seat in the industry through the most unlikely of circumstances, he finds himself in charge of crafting and nurturing a tale peak-era Tony Khan himself would be probably be proud of.
That, of course, is working on the dangerous assumption that "Peak-Era Tony Khan" can now be considered past tense…
(CONT'D...)