Why Jerry Lawler Is Replacing Corey Graves On WWE Raw
Jerry 'The King' Lawler is rejoining the WWE Raw announce team for a while. Here's why...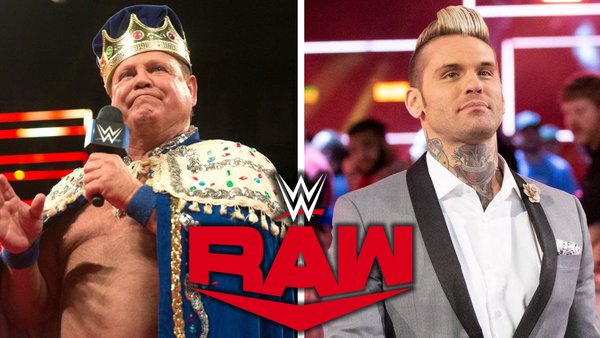 Jerry 'The King' Lawler is set for an imminent return to the WWE Raw announce booth, replacing Corey Graves over the period surrounding the red brand's play-by-play guy's wedding.
This was announced on last night's episode of Raw Talk, with Lawler commenting:-
"I'm looking forward to it. I'm gonna be back behind the announcer's table there on Monday Night Raw because that idiot Corey Graves is getting married! Oh my gosh!"
Graves and long-time partner Carmella are getting married this, having told The Athletic last week that he would be flying out this Tuesday (today) to be wed on Thursday. Engaged in October 2021, the couple have been together since at least 2019, when their relationship was featured as part of that year's season of Total Divas.
The advent of the couple's reality series, Corey & Carmella, recently saw their relationship become on-screen canon on Raw. Last night, Carmella leapt into her husband-to-be's arms after escaping a beatdown from now-former tag team partner Queen Zelina.
There is currently no word on how long Corey will be absent from Raw. Lawler last appeared on Raw in December 2021, doing so shortly after news he had signed a new contract with WWE broke.
Please include a H/T and link back to WhatCulture if using any of the above quotes.