Why WWE Released Bray Wyatt
New update on the reason given for Bray Wyatt's WWE exit.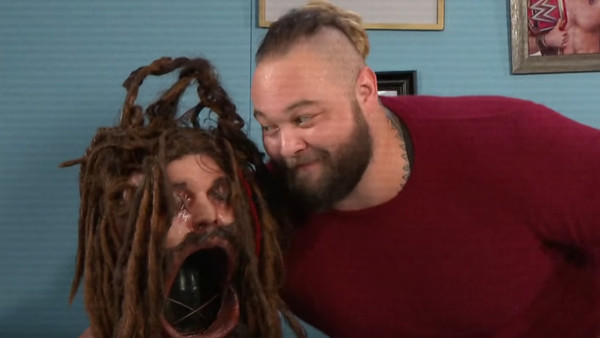 With the wrestling world still reeling at yesterday's news that WWE has released Bray Wyatt, there's now an update on why the two-time World Champion was let go by Vince McMahon's sports entertainment juggernaut.
As per Fightful Select, John Laurinaitis informed Wyatt and the WWE roster that the reason for Bray's release was "budget cuts" - which is the same reason given to numerous talents over the past year or so, while WWE continues to generate record revenue figures.
Big Johnny called Wyatt to inform him of his release, then called other members of the talent roster to let them know of this news. Many were hugely surprised by this news, particularly due to how Bray Wyatt and his Fiend persona shipped impressive numbers when it comes to merchandise.
Interestingly, the Eater of Worlds' name had been brought up during WWE's previous rounds of mass cuts, along with several other names who are still currently with the organisation. Fightful also adds how Wyatt had been getting protective about his Fiend character due to certain WWE creative decisions that were made - which, let's be honest, who could blame him?!
Prior to his release, Bray Wyatt was tentatively scheduled to return to action this month, with many expecting him to be in action at SummerSlam on 21 August.
Bray has yet to comment on his release as of this writing, although several of his peers have chimed in with their thoughts.
https://twitter.com/AlexaBliss_WWE/status/1421514128116621319

— Tweet
I think what you meant to say was: "Thank you so much for coming up with such an incredible gimmick(time & time again)one so cool & over, we really didn't know how to book it right. So we just gave it to someone else so we can still make ALL the money off of it & let you go"??‍♀️ ? https://t.co/rWVtbxOioA

— Mickie James~Aldis (@MickieJames) July 31, 2021
With @WWE's release of @WWEBrayWyatt the company has lost a true visionary and a creative genius; one of the most innovative makers of mayhem pro-wrestling has ever seen.

Here's hoping Bray finds happiness and recreates himself once again - in wrestling, in life...or both. https://t.co/9Ol7wCKANI

— Mick Foley (@RealMickFoley) July 31, 2021