Why WWE's Ratings Desperation Is A GOOD Thing
The Magic Numbers.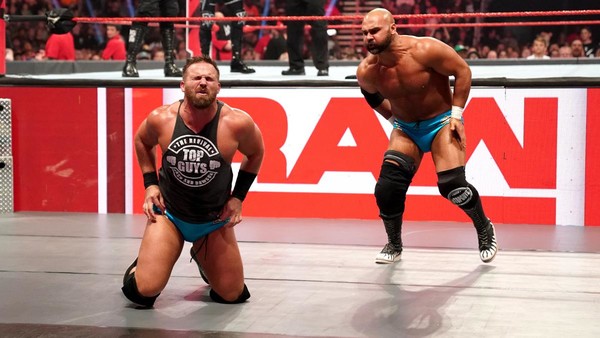 "THEY ARE FIGHTING OVER SHAMPOO" was the fan sign that famously stole focus during the total snoozer between Edge and Booker T at the critically-condemned WrestleMania X8. It spoke louder than Booker himself in the Japanese hair care commercial he failed to snag away from the future 'Rated-R Superstar'. It was voluminous (unlike the former Five-Time WCW Champion's locks, evidently) in it's toxicity. It was inspired in its simplicity. It was everything the storyline wasn't, and was comfortably the most entertaining element of the payoff as a result.
Should deferrence be offered to this angle because it's nearly two decades old? Ordinarily, such sh*te would develop a certain charm through the passage of time, but this week's edition of Raw was a pained reminder that in WWE, time - unlike Scott Dawson and Dash Wilder - stands totally f*cking still.
Was this latest embarrassing chapter in The Revival's insipid main roster story in fact their own endorsement for "Usoy Hot", because they didn't look as pleased with it as Edge did with his own commercial? Of course it b*stard wasn't - at least he got a WrestleMania match out of his embarrassment. Dash and Dawson were banished on the pre-show doghouse before the latter took the punishment literally by dragging his a*se across the ring on Raw.
The segment was the nadir of the flagship's own latest lowest ebb - a stinker of a Raw that will post a rating reflective of the creative catastrophe on display, even if Vince McMahon and Roman Reigns' joint presence remotely (and, artificially) inflate the figure. The former NXT Tag Team Champions were at long last headliners alright - but how long can these lead stories be fuelled by fervent fume?
Michael Hamflett
We Need To Talk About Kevin (Nash). Michael can be found in articles or on podcasts extolling the virtues of New Generation WWF, New Japan Pro Wrestling or the new WWE angle they definitely definitely won't ruin this time.
See more from Michael