Will Karrion Kross Be Added To WWE Clash At The Castle Main Event?
Doomsday returned last Friday.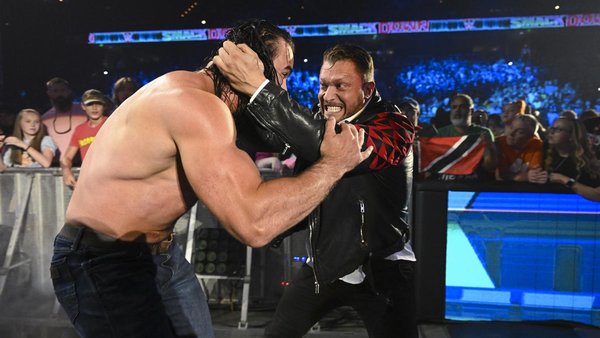 Having shockingly returned to WWE on last week's SmackDown, many wrestling fans have been left pondering the question of whether Karrion Kross will be inserted into the big Undisputed WWE Universal Championship match between Roman Reigns and Drew McIntyre at Clash at the Castle next month.
For those who missed it, said return saw Kross - who had Scarlett Bordeaux with him - lay waste to McIntyre before then giving an ominous "tick, tock" to the Tribal Chief. As such, fan speculation has been rampant about Doomsday being inserted into the Clash main event.
Speaking on today's Wrestling Observer Radio, Dave Meltzer stated the current plan is to not put Kross into that Undisputed WWE Universal Title contest.
"For Cardiff, it is still Roman and Drew. I was told, of course this can always change, but I was told that it's really not going to change, [and] that they feel that that has to be the match, you know."
In terms of Kross getting to square off with Reigns at some point, Meltzer added:
"So, as far as when he's getting his shot at Roman Reigns, 'cos obviously they're building to that, I have no idea when that will be."
While many are believing that Drew McIntyre will be the one to bring an end to Roman's reign at the top of the WWE food chain, the Wrestling Observer head had a differing opinion on the possibility of McIntyre walking out of Cardiff's Principality Stadium with gold around his waist.
"I don't think Drew's winning the title. I don't think anyone's getting the title off him until after the Rock match [at WrestleMania 39]. I mean, it seems perhaps, perhaps they could do something where they beat him and then he beats the guy back, like with Drew. I know some people have talked about that idea, but they're really playing up this, like, 700 days thing."
Meltzer's Observer Radio co-host Bryan Alvarez posed the question of Roman Reigns losing one of the two belts he carries around with him, in turn once again splitting the WWE Title and the Universal Title.
On that front, Dave played that down and also gave an update on the purported upcoming schedule of the Head of the Table:
"Unless he comes in for a TV match, Roman right now, he's scheduled for Cardiff and I think he's scheduled for Survivor Series. After that, I don't know. Not Philadelphia, he's not on that card, which is the Extreme Rules show, so it wouldn't be there. So, it's a way's off."
On the topic of Karrion Kross, Meltzer stated how WWE is very much "going to make a main eventer" out of the two-time NXT Champion.
As to how having Triple H running creative is clearly of huge benefit to Kross, the Observer founder concluded:
"Paul [Levesque] will have a longer leash with him in the sense that, if it was Vince, he'd give him three weeks and then he'd panic and say, 'Ah, that guy couldn't get over'. With Paul, I think that they'll go a long time, because he pushed him forever and ever in NXT, and their mentality was, if we keep pushing - they made him undefeated - if we keep pushing him he'll eventually get over. And I think that will probably be the mentality here; keep pushing him and he'll get over. It's an interesting one. The thing with him is, is that I can sort of see their mentality that he could be a top guy, because he looks exactly like they want top guys to look."
If Dave Meltzer is correct and Karrion Kross does not get inserted into the Clash at the Castle main event, it remains to be seen what the former Killer will doing at this hotly anticipated premium live event. Just throwing it out there, but Sheamus, anybody? Two big beefy boys doing big beefy boy stuff...
WWE Clash at the Castle takes place on Saturday 4 September.
Create Content and Get Paid
---