WWE Asked Bryan Danielson Not To Do "Yes!" Chants In AEW
If you were wondering why Bryan Danielson hasn't been playing along with "Yes!" chants, here you go.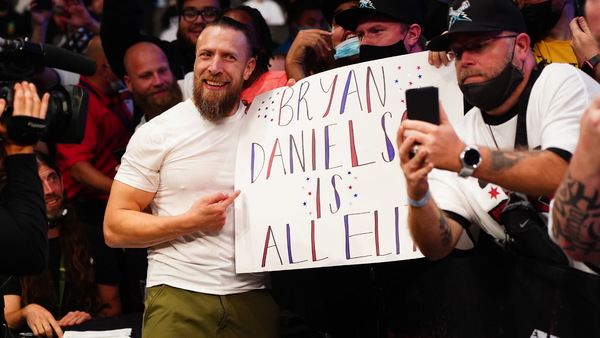 The reason Bryan Danielson hasn't been playing along with "Yes!" chants since joining All Elite Wrestling is simple: WWE asked him not to.
The 40-year-old revealed as much on a recent appearance on Barstool Rasslin'. Speaking with host Brandon F. Walker, Danielson outlined a conversation he had with Kevin Dunn before debuting for AEW, in which WWE's Executive Producer and Chief of Global Television Production asked the former Daniel Bryan to respect his old employer's intellectual property.
Danielson, it seems, was happy to oblige (h/t the Wrestling Observer/Figure Four Online):-
"I'm not doing it myself because I respect WWE's intellectual property. I don't think anything legally, they haven't threatened anything legally. So I had a great conversation with Kevin Dunn with WWE before I debuted with AEW. I was very upfront with WWE about, 'Okay, I want to let you guys know I'm leaving. This is my debut date' and all that kind of stuff. They asked me, politely, to respect their intellectual property, even some of the things that couldn't be legally enforced. I'm trying my best to do that."
The 'American Dragon' has been nothing but respectful towards WWE since leaving the promotion in May. 5 September's post-All Out 2021 media scrum saw Danielson talk up his positive relationship with Vince McMahon, saying he loved his time in WWE, and he was nothing but classy in a recent editorial penned for the Players' Tribune titled "Thank You, WWE."
Danielson will wrestle his first AEW match on tonight's 'Grand Slam' Dynamite special, facing World Champion Kenny Omega in a non-title bout.
Create Content and Get Paid
---