WWE Celebrates Crown Jewel 2022 Success, Saudi Return Confirmed?
WWE's next Saudi Arabian date targeted as company revels in Crown Jewel 2022 viewing figures.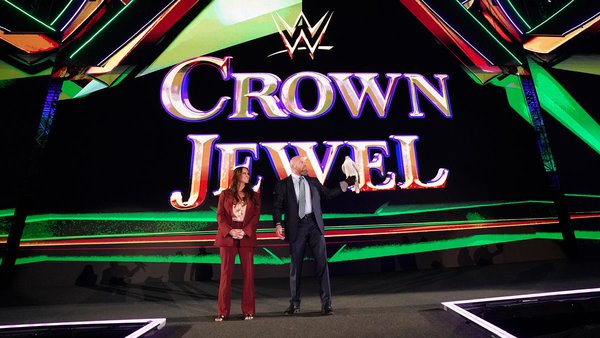 WWE returned to Saudi Arabia with Crown Jewel 2022 on Saturday, 5 November, banking another $50 million as part of its ten-year partnership with the nation's General Sports Authority.
On top of being an inevitable financial success, given the deal's nature, WWE has circulated an internal memo amongst its executives touting impressive global viewing figures. Per that memo, as reported by Fightful Select, Crown Jewel 2022 was the most-viewed international premium live event in WWE history.
Crown Jewel 2022 also dislodged WWE's first Saudi Arabian show, 2018's Greatest Royal Rumble, as the most-watched event the company had held in the Kingdom. Per Fightful, the top five looks like this:-
1. Crown Jewel 2022
2. Greatest Royal Rumble 2018
3. Elimination Chamber 2022
4. Crown Jewel 2021
5. Super ShowDown 2019
WWE has also claimed a seven-figure viewership for Crown Jewel 2022 through the Peacock platform in the United States. Parent company NBCUniversal claims Peacock currently has around 15 million total paid subscribers.
When Will WWE Return To Saudi Arabia?
Fightful notes that current WWE plans call for a return to the Kingdom in May 2023. PWInsider's Mike Johnson reports similarly, adding that the promotion is working on finalising the date.
WWE's "strategic partnership" with the Saudi Arabian regime commenced in 2018. Currently, the promotion is contracted to run two annual events in the Kingdom to the tune of around $50 million per show. The deal has thus become one of WWE's most lucrative revenue streams, helping the promotion to the most profitable period in its history.
Shows like Crown Jewel and Super ShowDown form part of the Saudi Vision 2030 social and economic reform platform. WWE has faced understandable criticism for participating in sportswashing as a result, with Saudi Vision 2030 designed to rehabilitate the Saudi Arabian regime's public image - itself a consequence of a horrendous human rights record.