WWE Confirm 7 Men For Elimination Chamber 2018
More is more.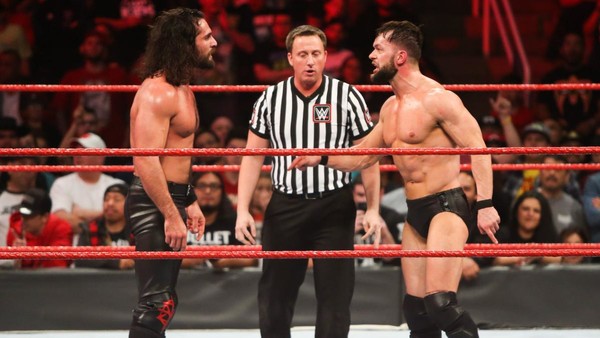 During a Facebook Live interview post last night's Monday Night Raw, General Manager Kurt Angle announced that the men's Elimination Chamber in two weeks time is set to accommodate seven participants, following controversy in the final Fatal-Four Way qualifier (hastily expanded to a Fatal-Five Way to include Seth Rollins).
The match ended in chaos as both Finn Bálor and Rollins scored a pinfall, giving each a claim to be beaten by Roman Reigns at Nevada's T-Mobile Arena. Apparently (though not actually), the victorious pair pitched their reasons for being the real winner to Angle after the match, with the hapless boss ultimately dropping the ball by cravenly putting both men in the contest to make life easy.
Obviously, the screwy finish and enlargened match has absolutely nothing to do with WWE accidentally leaking the original winner and subsequently changing things for the sake of a 'surprise', even though a one-on-one shootout between the co-nominees on next week's Raw would make all the sense in the world.
Anyway, these are exciting times for Elimination Chamber, because seven is one more than six. Presumably, two fellas will share a pod, spend the whole match bickering, and then kiss. You can't have a heptagonal chamber, after all. That would be ridiculous.
Create Content and Get Paid
---