WWE Crown Jewel 2022 Expected To Go Ahead After Saudi Scare
WWE to go ahead with Crown Jewel 2022 following attack scare in Saudi Arabia.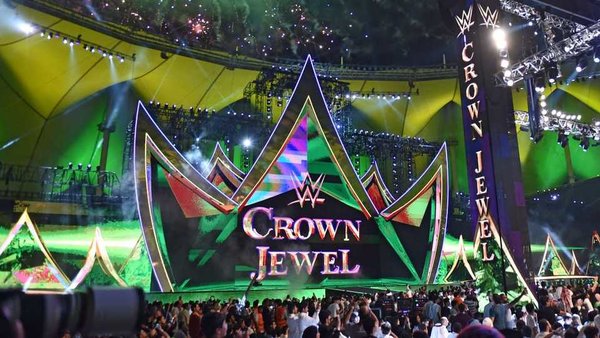 WWE Crown Jewel 2022 is expected to go ahead in Riyadh, Saudi Arabia this weekend despite warnings of an "imminent" attack earlier in the week.
Dave Meltzer reports in the Wrestling Observer Newsletter that unless something outwith WWE's control happens, Crown Jewel will take place as planned on Saturday 5 November. Previously, Meltzer had reported WWE was "monitoring" the situation in Saudi Arabia, following the nation's government warning the United States regime of a potential attack, placing both countries on High Alert.
WWE is understood to have implemented "security protocols and emergency contingencies" following the news. When the story broke, the promotion remained hopeful of Crown Jewel going ahead.
PWInsider's Mike Johnson reports that internally, WWE understands the area endangered by the potential attack was "nowhere near Riyadh." The company has also been in regular contact with The State Department ahead of the show. Private security firms were amongst the security protocols WWE had put in place for its latest premium live event, allowing the promotion to call them in if required.
Crown Jewel 2022 is to be headlined by Roman Reigns vs. Logan Paul for the former's Undisputed WWE Universal Championship.
WWE's Troubled History In Saudi Arabia
WWE runs shows in Saudi Arabia as part of a deal with the nation's government. Rather than hosting such premium live events as Crown Jewel and Super ShowDown privately, WWE does so to the tune of around $50 million per show, paid directly by the Saudi General Sports Authority.
This 10-year strategic partnership commenced in 2018. WWE is currently contracted to run two annual shows in the Kingdom, though this was complicated during the COVID-19 pandemic's myriad travel restrictions. Due to WWE suspending touring during this period, Crown Jewel was skipped in 2020 and Super ShowDown in 2021.
WWE's business in Saudi Arabia exists within the Saudi Vision 2030 social and economic reform program designed to sportswash the nation's human rights record.