WWE Elimination Chamber 2021: 36 Things You Probably Missed
WWE give away The Miz's title win in advance and everyone trolls everyone at Elimination Chamber.
"Awesome".
Not many people seem to be saying that on social media today following The Miz's WWE Title win at Elimination Chamber. Look on the bright side though - at least Bad Bunny won't be Miz's opponent at Fastlane for that very belt. Oh God, nobody tell Vince!
Seriously though, Chamber is already getting a ton of hate from the usual suspects on social media despite being a solid show. If you were into title switches, flesh being squeezed through steel chains and WWE's roster trolling the living sh*t out of one another from the safety of those pods, then this was the pay-per-view for you.
This article highlights 36 different moments from the main card that you may well have missed when watching live. Only those who looked really closely would've spotted the company giving away some results ahead of time (or at least heavily teasing them), for example. Then, there were some healthy portions of fun involving guys like Sami Zayn, Kevin Owens and AJ Styles.
Here's all the blink and you'd miss it goodness from WWE's latest speedbump on the 'Road To WrestleMania'.
36. A Premonition?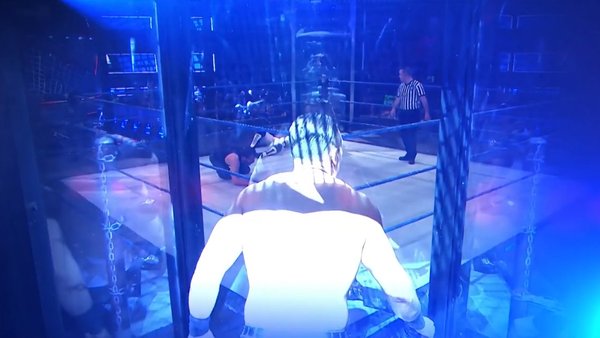 Ooft.
That's what yours truly said when he spotted The Miz scanning the Elimination Chamber scene as soon as the pay-per-view's intro kicked off. This might've been complete coincidence, but it was nonetheless interesting to see Miz opportunistically waiting to strike many moons ago.
He'd do just that right at the end of Chamber by cashing in Money In The Bank to become new WWE Champion.