WWE Hall Of Famer Officially Rules Out Ever Wrestling Again
Ric Flair is having his "last match", but there won't be another for this WWE legend.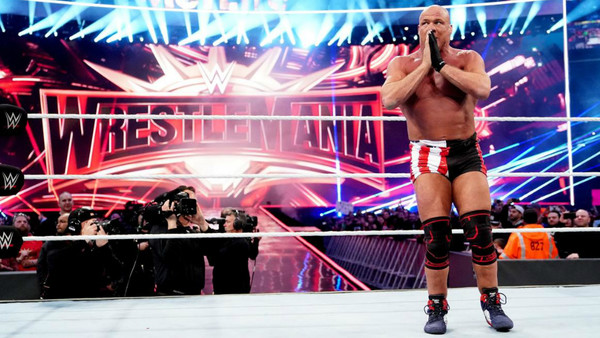 Kurt Angle says he will never wrestle again after undergoing serious knee replacement surgery on both legs.
The WWE Hall Of Famer told the 'Two Man Power Trip Of Wrestling' podcast that he decided to get work done on both knees so he wasn't "destabilised" - regardless, he's still "in a lot of pain". Kurt just didn't want to worry about going under the knife a second time later in life.
Angle has always been coy when asked if he'd fancy pulling on the boots for one more match. He's never kept it a secret that he didn't really enjoy his last hurrah in WWE. The company picked Baron Corbin as Kurt's final opponent at WrestleMania 35 in 2019, which didn't sit well with the legend or his fans.
Going out on a six-minute loss to a worker that had nothing to do with Angle's iconic career didn't sit well, but it'll be his last in-ring showing.
Physically, Kurt can't go anymore. The double knee surgery has also given him the chance to walk relatively pain-free someday. That wouldn't be the case if he "messed" them up by bumping around.
Create Content and Get Paid
---