WWE Hell In A Cell 2017 Review
Something of a mish-mesh.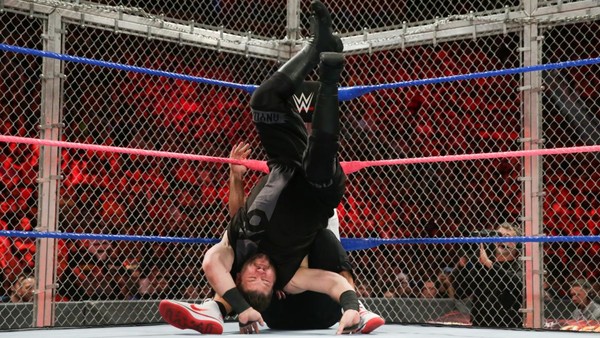 Low expectations should never excuse mediocrity. A pitiful England football team being dismissed in the last-16 of a World Cup as opposed to crashing out in the group stage oughtn't to be greeted with a ticker-tape parade on the airport tarmac, and nor should a child be gifted a brand new Nintendo Switch because they managed an E grade in maths as opposed to an expected F. It just doesn't add up.
After the puffery surrounding the 'WrestleMania calibre' No Mercy, SmackDown's Hell in a Cell represented a return to the real world of severely tempered anticipation. General excitement about a card headlined by another Shane McMahon Hell in a Cell match were about the same as for a pending gastroscopy. Add another Jinder Mahal championship bout, Orton vs. Rusev II, and what threatened to be a lengthy Baron Carbin match, and there was more than enough to set the stomach acid flaring up.
At least it couldn't possibly disappoint. With a pill bottle of antacids on standby, maybe Hell in a Cell would make a virtue of its low-key build?
Before the show had even began, that childproof safety lid had been unscrewed, thanks to ten being added to the US title match in the form of Tye Dillinger. Doubtless it'd improve the contest with Tye there to carry some of Corbin's slack, but the thought of the now-certain image of big Baron hoisting the title was an early sickener.
The pre-show match fulfilled the role of opening ceremonies the world over: inoffensive, diverting, but utterly pointless. The Hype Bros. split has been so long coming that the barber is growing impatient at his shop's replacement pane of glass clogging up his living room. It came one step closer to shattering here, but for now, tediously, it remains in tact.