WWE: New Age Outlaws' 8 Most Memorable Moments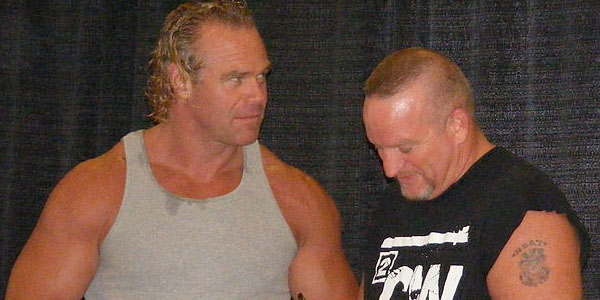 The New Age Outlaws are currently enjoying a career revival on WWE TV, having won the WWE Tag Team Titles for a sixth time recently by beating Cody Rhodes and Goldust. This is their first title win in 14 years, marking the longest time between title reigns in WWE history. The best thing about it is, they can still go, and recent matches have proven that Billy Gunn and Road Dogg are just as entertaining as ever. Often hailed as the "greatest tag team of all time," the Outlaws were a staple of the Attitude Era and at one time could boast merchandise sales almost on a par with the Rock and Steve Austin. In honor of their successful return, we will be looking back at eight of the Outlaws most memorable moments, both in and out of the WWE.
8. The Birth Of The Outlaws
http://www.youtube.com/watch?v=B1x5n61nXI4 In early 1997, things were very different for the New Age Outlaws. Jesse James had just returned from a brief absence where he began calling himself "the Real Double J," revealing himself as the real voice behind Jeff Jarrett's supposed hit song, "With My Baby Tonight." Billy Gunn had just walked out on his long time tag team partner and brother, Bart after becoming frustrated at losing the tag team titles to Owen Hart and the British Bulldog. After becoming singles wrestlers, both men were languishing in lower card feuds that weren't capturing anyone's attention. Enter the Honky Tonk Man. At the time, Honky was on the lookout for a new protégé and targeted various stars, most notably "Rockabilly" Billy Gunn and The Roadie who had a brief feud with each other at the time. Realising that their careers were going nowhere, Roadie came to the ring after Gunn had suffered another frustrating loss to Flash Funk on Shotgun Saturday Night. Now dubbing himself the Road Dogg, he debuted a new look and "attitude" and honestly evaluated their recent career disappointments. Road Dogg told Gunn that all they've been doing is "curtain jerking," blaming Honky Tonk Man for Gunn's recent misfires. After initially looking non-committal, Gunn answered Road Dogg's proposition by smashing Honky Tonk Man with his own guitar. Using the angst of never being appreciated, the New Age Outlaws were born. Rockabilly became "Bad Ass" Billy Gunn and the two went on an immediate tear through the tag team division.