WWE Payback 2016: 10 Awesome Moments
AJ Styles and Roman Reigns tear the house down.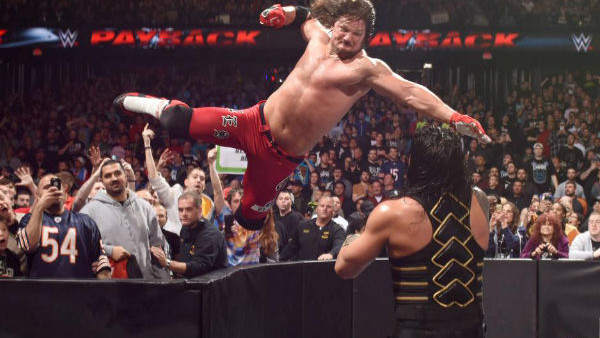 Posting on Twitter during the pay-per-view, legendary announcer Jim Ross sent out his belief that AJ Styles knows exactly when to sell and when to quicken the pace.
There was a decidedly old-school vibe to many of the matches presented at Payback. Far from a negative, the slower pace only heightened subsequent quicker sequences as bouts raced to their conclusions. The perfect example of this was the show's main event, an at times slow-burning epic between Roman Reigns and AJ Styles.
In the midst of that blur of activity, one huge bump popped the live Chicago crowd. The victim was yet another announce table, surely one of the most regular tropes WWE employ. On this occasion, it didn't feel tired, it felt necessary. Styles was willing to do anything in order to snatch his opportunity to become WWE World Heavyweight Champion.
Joining that key moment were others, such as one killer promo, one wrestling icon getting his hands on another, and unintentional humour provided by a partisan crowd.
WWE Payback was full of awesome moments, here are some of the most notable...

10. The End Sequence Of The WWE United States Title Match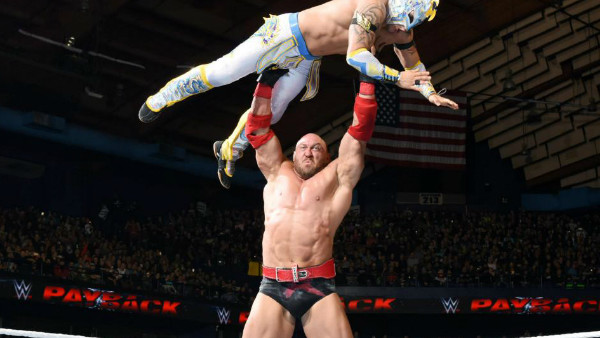 Kalisto and Ryback were put in a tough spot at WrestleMania 32. As the opening match on the 'Kickoff' show, they had the indignity of performing in front of a sparse crowd. Congestion problems meant few fans were in the building to see their bout, but that was somewhat rectified at Payback.
The crowd looked almost full by the time the pair once again clashed on the pre-show. Setting aside the fact this was a second consecutive slot on the non-pay-per-view portion of the program, both guys worked really well together. For that, they deserve credit, because they have managed to overcome the potentially awkward size difference.
In particular, the ending sequence to their match thrilled. A spectacular Gorilla Press from Ryback was executed from the top rope, but Kalisto hit Solida Del Sol quickly after 'The Big Guy' missed a splash. It was a sudden flurry of action, but it worked well.
Kalisto picked up an opportunistic win, and he can hopefully move on to fresh challenges, or drop the WWE United States Title.