WWE Reaching Out To Goldberg, Kurt Angle, Rey Mysterio, And Jeff Hardy For Returns?
Could four former world champions be on their way back to the company?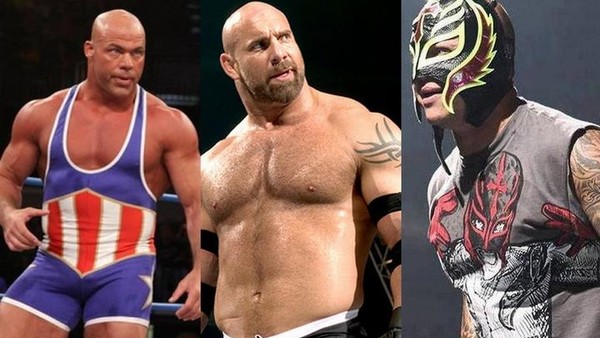 Earlier this week, The Wrestling Observer and other outlets reported that, in preparation for WWE's upcoming brand split, the company is reaching out to several former stars about returns.
Now, Forbes is reporting that those "former stars" include one-time headliners Bill Goldberg, Kurt Angle, Rey Mysterio, and Jeff Hardy.
Goldberg's WWE run ended with hard feelings on both sides, and what seemed like a mutual understating that the parties wouldn't work together again. Goldberg's softened in recent years, though, citing a desire to return to the ring to perform for his young son. He's always maintained that a comeback would have to be worth his while, so WWE would need to meet his price.
Kurt Angle, who recently wrapped up a ten-year run in TNA, has been vocal in recent years about wanting to return to WWE. Given concerns about Angle's physical condition and past behavior, as well as his need to work a part-time schedule, Vince McMahon and Triple H haven't been receptive to his overtures. If these reports are to be believed, not only have they changed their minds, but they're considering pairing the Olympic Gold Medalist up with American Alpha.
Circumstances are different for Mysterio and Hardy, who are both under contract to other organizations. Hardy is a top star in TNA, though many contracts in the company have come due as of late. Mysterio is contracted to Lucha Underground through a fourth season, which hasn't been filmed yet.
Both men have expressed interest in WWE returns, despite issues with their availability.