WWE Roadblock: 10 Awesome Moments
The simple things can often be the most effective...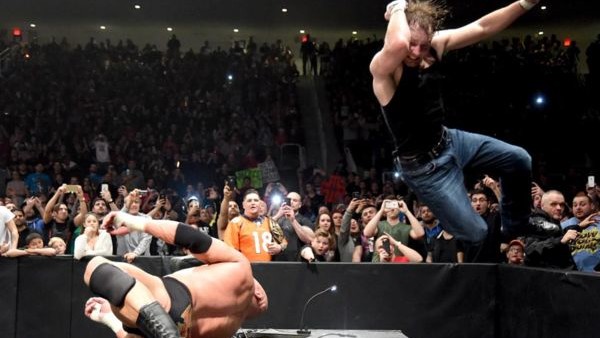 For a company that seemingly can't wait to get to WrestleMania, it was perhaps confusing to literally put up their own 'Roadblock' on the road to that particular show.
Held at the Ricoh Coliseum in Toronto, Canada, WWE Roadblock was yet another diversionary stop on the way to the AT&T Stadium on April 3.
Before the event had even started, the company promised a WWE World Heavyweight Title bout between Triple H and Dean Ambrose, as well as a one-on-one encounter pitting Bray Wyatt against the menacing Brock Lesnar. The latter had once been tentatively scheduled for WrestleMania, so it was likely a bit of a comedown for Wyatt to learn that his marquee scrap would instead take place on a glorified house show.
Thankfully for what it was, Roadblock was enjoyable. Those courting controversy by claiming it would top 'Mania were proven wrong - even before the supershow in Texas, it's easy to imagine it will blow Roadblock out of the water. That said, the WWE Network special was a fun jaunt, and did feature some excellent matches.
This article looks at 10 distinct 'awesome' moments from the show overall, more so from the perspective of treating it like a one off snapshot of WWE road life than anything else.
10. The Simple Show Intro Proves Effective
One consistent argument related to the WWE product is that the organisation often choose to ignore simplicity. Doing the simple things well is ironically something which helps performers ascend the ladder in the company, so it's sometimes baffling why management feel the need to throw so many ingredients out there during each show.
There was an air of UFC about the introductory video package for Roadblock. Proceedings weren't bogged down with unnecessary hyperbole or fancy phrasing, this was a straightforward look at some of the main matches scheduled for the card. As it turned out, that was a shrewd move.
Naturally, WrestleMania will feature the same overblown introduction package it always does. There's nothing wrong with that, 'Mania is the biggest WWE show of the entire year. Roadblock is merely functional, and that came across during the opening video.
Far from a negative, the simple outlining of feuds involving Triple H, Dean Ambrose, Bray Wyatt and Brock Lesnar were extremely well done. The video began Roadblock in the right manner.