WWE's Vince McMahon Movie Script Review - 10 Things You Need To Know About Pandemonium
9. Ted Turner Is The Main Antagonist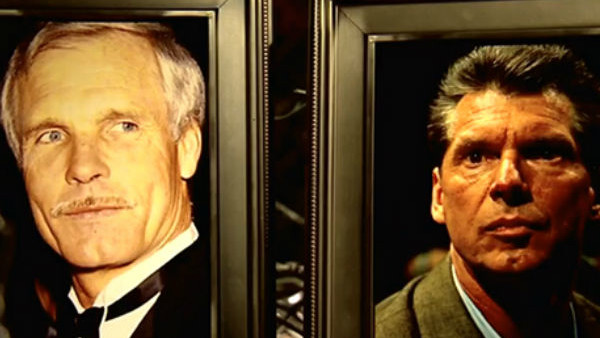 Vince's professional rivals aren't exactly given a fair, balanced portrayal throughout the script. The old NWA promoters are presented almost like a cabal of gang leaders, who'd use dangerous, coercive methods to prevent McMahon from encroaching on their territories. There was obviously some collusion between them in real life, but the script would have you believe they behaved like an organised crime syndicate.
It's Vince's biggest competitor who plays the chief antagonist, however. Former WCW owner Ted Turner is portrayed as a malicious boogeyman throughout, and his dislike for Vince is greatly exaggerated. In reality, while Turner recognised McMahon as a rival, he had no personal vendetta with Vince despite the war between their respective companies. The famous "I'm not in the 'rasslin' business" telephone call is present and correct, however.
Eric Bischoff is oddly absent within the script, with Jim and David Crockett occupying his role as Turner's right hand men instead. A bizarre choice, as David only worked as a producer following Turner's purchase of the NWA in 1988, and Jim left the business three years later. The Crocketts are also featured playing an integral role in Hulk Hogan joining the company in 1994, though both were long gone by that time.