WWE Smackdown Spoilers - Daniel Bryan's On The Road To Fast Lane
News from this week's Smackdown.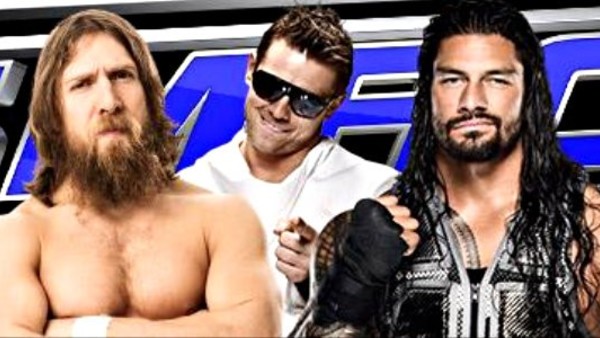 Smackdown was filmed on Tuesday from Colorado Springs. The show will air on Thursday night and was primarily concerned with Daniel Bryan's momentum towards WWE Fast Lane. Opening the broadcast was a Miz TV segment. The guests were Bryan and Roman Reigns, but things quickly fell apart when Reigns hit the Superman Punch on The Miz. The Royal Rumble winner then challenged Bryan to a fight, but Seth Rollins turned up and interrupted the stare off. It was then announced that Bryan would be facing Rollins, Jamie Noble and Joey Mercury in Smackdown's main event. Ryback and Dolph Ziggler defeated Stardust and Goldust, after Stardust decided to walk out on his partner. The break up had been coming for some time. It looked like Ryback and Ziggler could be going forward as a new tag team. The idea here was that it was "The Big Guy" and "The Little Guy", with Ziggler even wearing a matching weight belt. Hopefully, though, this was just a one off. Team Ryback and Ziggler sounds like a horrible idea. Dean Ambrose bested Curtis Axel with the Dirty Deeds in a short match. Bad News Barrett turned down Ambrose's IC Title match request, saying that Ambrose was too crazy. Fandango beat Adam Rose. Roman Reigns defeated The Miz. What was encouraging for WWE is that Reigns was very over with the crowd. Then again, anyone is a babyface when against The Miz. Rusev defeated Erick Rowan. Paige got the win over Alicia Fox with the PTO submission hold. Bryan won the main event over Rollins, Noble and Mercury. Victory came via the Yes Lock on Mercury. Unfortunately for Bryan, Kane came out afterwards and choke slammed him. Rollins then hit the curb stomp to end the show with the babyface hurting.
Create Content and Get Paid
---