WWE SmackDown Star Says Being Humble "Worked Against" Him
Doing everything WWE asked could only take this frustrated SmackDown man so far.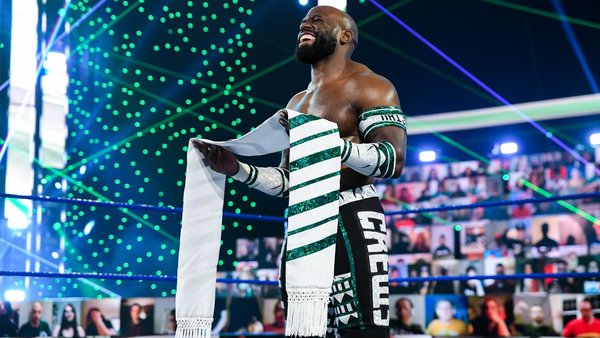 Apollo Crews is ready to speak up for himself and stop being so humble.
The freshly-turned heel appeared on WWE's kayfabe-rich 'After The Bell' podcast. Like most who talk on the pod, Crews peeled back the curtain slightly to talk about his frustrations. According to the SmackDown star, it's now time to stop doing everything the company ask with a smile.
Instead, he wants to grab opportunities that present themselves and show a different side to his work - that's why he's so happy to get more mic time on Friday nights, and it's why he's 100% up for a prolonged feud with reigning Intercontinental Champion Big E.
Crews described himself as "too humble", and said that "humbleness worked against [him] at times". WWE definitely didn't know how to book Apollo as a babyface. He was a nondescript, smiling good guy who hardly got a look in when it came to major rivalries or storylines.
Hopefully, that has now changed.
Crews also said that an appearance on Lilian Garcia's 'Chasing Glory' podcast changed his entire outlook on WWE life. He was shocked by how confident he sounded when listening back, and he wants to project that self-belief onto TV.
Create Content and Get Paid
---