WWE SummerSlam 2002: 5 Awesome Things And 5 Things That Sucked
Shawn Michaels is back in the ring after four years and Brock Lesnar takes on The Rock...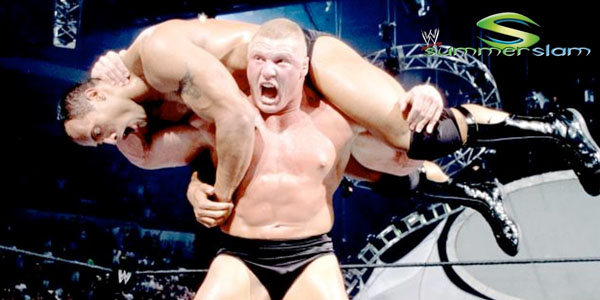 The 2002 WWE SummerSlam PPV was held on August 25, 2002 in Uniondale, New York. The event took place at a time when WWE was going through a transitional phase. They had just changed the company name from World Wrestling Federation to World Wrestling Entertainment and the roster was split in two with half the roster on Raw while the others were on Smackdown. The top draw Steve Austin walked out on the company, the second top draw The Rock was set to focus on his growing movie career and a number of young guys were being called up to the main roster. One of those younger talents was Brock Lesnar, who debuted the night after WrestleMania and was main eventing this show after less than five months on the main roster. Other young talents that were called up to the main roster in 2002 were John Cena, Randy Orton and Batista although none of them were on this show. Lesnar was the recipient of a monster push. It was a big night for the 25 year old. Here's the full lineup from the PPV portion of the show: 1. Kurt Angle d. Rey Mysterio 2. Ric Flair d. Chris Jericho 3. Edge d. Eddie Guerrero 4. World Tag Team Titles: The Un-Americans d. Goldust & Booker T 5. Intercontinental Title: Rob Van Dam d. Chris Benoit 6. The Undertaker d. Test 7. Unsanctioned Street Fight: Shawn Michaels d. Triple H 8. WWE Undisputed Championship: Brock Lesnar d. The Rock This was one of the best PPVs WWE has ever had. There were far more great things on this show than there were bad things, but like usual we're going to look at both sides of things here. We begin with the five awesome things and then ranking the five things that sucked.