WWE: Who Are The Top Merchandise Sellers Right Now?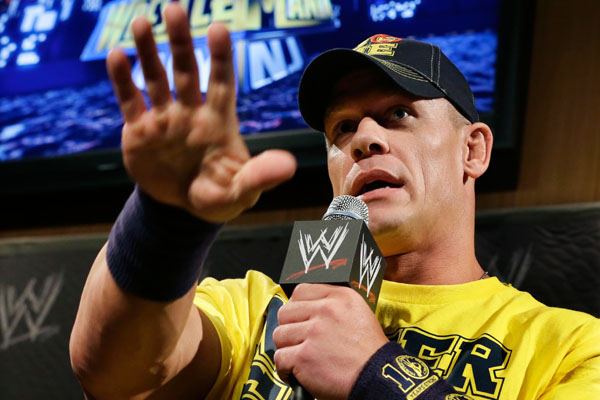 The latest issue of the
Wrestling Observer Newsletter
has released some interesting info as it relates to the top merchandise sellers in WWE these days. While it's no surprise that John Cena is still leading the company in that regard, others have moved up the rankings and some have really fallen off too. The top merchandise sellers at live events are, in order, John Cena, Daniel Bryan, CM Punk, Batista, Sheamus, Hulk Hogan, Randy Orton and Brock Lesnar. CM Punk has typically been the #2 merchandise seller for several years, but his absence has obviously knocked him down. That will likely continue as long as he continues to keep his distance from WWE. Plus, with Daniel Bryan having a bigger role on WWE TV these days he's likely to stay firmly in that position. It also probably helped that there were dozens of fans in and around the ring with him on Raw wearing his new shirt. Smart way of advertising! On the WWEShop.com website, the top sellers are Cena, Punk, Bryan, Hogan, The Shield, Steve Austin, Lesnar, The Undertaker and Orton. The two things that jump out when looking at that list are that The Shield are not listed among top sellers at live events yet for online shoppers they are in the top five. That's interesting because they have been put in the position to main event live events of late, so you would think that they would do better there. Now that they are booked like babyfaces perhaps their merchandise numbers will go up too. It's also interesting that Steve Austin is listed in 6th even though he hasn't appeared in a WWE ring in several years. It just shows how popular he was at his peak. Nobody could touch him when it came to merchandise when he was at his peak. It was also noted that Sin Cara has had a major drop in sales since Hunico took over the role and Rey Mysterio is also not near the top after years of being in the top tier. A lot of it has to do with presence on camera. We don't see Sin Cara much at all anymore and as we've noted in the past, the Sin Cara is going to be faded out in the coming months. As for Mysterio, his contract is up in a few months. He may not be back. As an aging wrestler no longer in the spotlight it makes sense that he would fall down the list. As the saying goes: out of sight, out of mind.
Create Content and Get Paid
---