WWE vs Arrow - 7 Reasons Why Stardust & Stephen Amell Is A Great Idea
Could this be the beginning of Cody's return?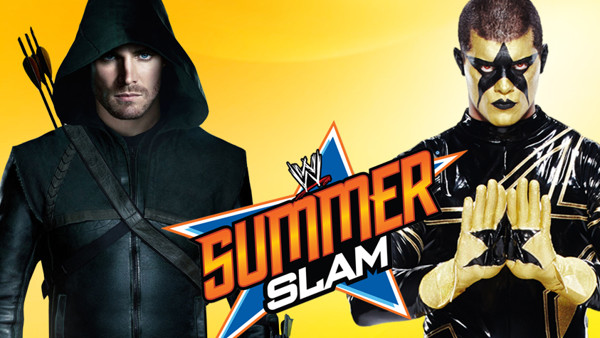 The Stardust character has been divisive, to put it mildly. Having the talented and under appreciated Cody Rhodes running around dressed as a Goldust Lite has not been the career maker fans wanted for him. Spouting nonsensical riddles and making cartoonish noises, the character has been, at best, a fun midcard distraction. 
Several weeks ago it seemed that WWE had something meaningful lined up for him when Stardust crossed paths with actor Stephen Amell of Arrow. The two had a brief exchange on television, and since then they have been involved in a war of words on Twitter. This has been building towards a match between the two at this year's SummerSlam on August 23rd.
Last month however, the wrestling world was struck with the tragic passing of Rhodes' father Virgil "Dusty Rhodes" Runnels. Amongst grief and condolences for the Rhodes family, fans speculated that Virgil's death would be the catalyst for Cody to finally drop the Stardust gimmick and return to his former self. However last Monday on Raw, Rhodes returned as Stardust, with only a brief - almost obligatory - mention of his father on commentary. It seems WWE are sticking with the Amell feud.
Many fans have been critical of this decision, mostly out of fatigue for the Stardust character and apathy towards Amell. But it's easy to understand the appeal of the match. 
Here's why you should not only support their decision, but look forward to seeing Amell step into a WWE ring.

7. Stephen Amell Can Hold His Own Physically
https://www.youtube.com/watch?v=a5di9UD2-HY

One argument against celebrities (especially actors) getting in the ring is that they are not trained wrestlers and therefore it's insulting to portray them as equals to men and women who have spent years training to a professional standard. That's a fair argument, but that doesn't mean that an actor cannot be trained. Especially an actor with as much physical training under his belt as Stephen Amell.

A real specimen, Amell is highly skilled at Parkour or Free Running (WWE fans may remember that John Morrison brought a lot of that to his in ring style), and performs many of his own stunts on Arrow. 

Though he will still require training to work a professional wrestling match, you should be confident Amell will take to it extremely well. And besides, he's not going in completely blind.