WWE's Baron Corbin Blasts "Full Of Crap" Braun Strowman
Baron Corbin outlines his issues with Braun Strowman's recent "floppy flopper" comments.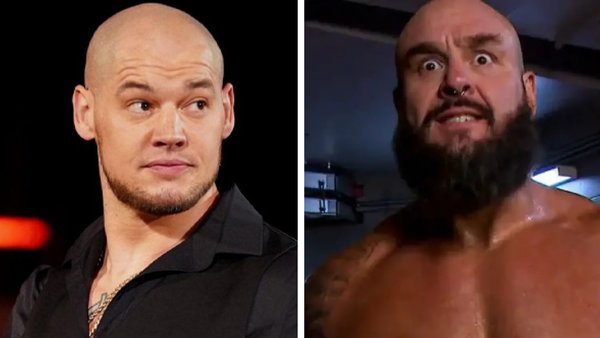 Add Baron Corbin's name to the growing list of people who have spoken out against Braun Strowman's recent disparaging comments on high-flyer wrestlers.
Braun's remarks came following WWE Crown Jewel 2022, where he faced Omos in a battle of the giants. 'The Monster of all Monsters' stated in a since-deleted tweet:-
Holy hell @TheGiantOmos can you believe we got 47 ⭐️⭐️⭐️⭐️⭐️ and reminded the people that no one cares about all these floppy floppers. Giants and Monster > flippy flipper bag your grocery's at @kroger #AirportTest #SizeIsThePrize #SwoleIsTheGoal
Chris Jericho, Mustafa Ali, and Will Ospreay were among those who responded publically. Strowman backpedalled later, claiming he was joking - and that he respected everyone in the WWE locker room.
Nonetheless, Corbin, a member of that locker room, has accused Strowman of making those comments for clout. On After the Bell, the Raw star claimed that rather than backing down, Braun should have stuck to his guns. Otherwise, he is "full of crap."
Said Corbin (h/t POST Wrestling):-
"I think, yeah, do you but whatever it is, stand behind it [Corbin said about Braun Strowman's tweets that caused a stir]. If you cower and back down after, then you didn't really mean it, you were doing it for clout, doing it for show, doing it for social media. I don't do anything for social media and I also don't go out and label myself whatever it is. If you're gonna go out and tweet, 'I'm the greatest big man this business has ever seen,' if you're saying it and you're the one that's having to put the title, nobody else is saying it about you, then you're full of crap."
Baron, billed at 6'8" himself, outlined his respect for performers of Rey Mysterio's ilk, which helps contextualise why Strowman's comments irked him:-
"... and so if you're gonna go out there and you're gonna bash little guys, look, I have some respect for guys like Rey Mysterio who have done unbelievable things at his size and his stature and he is iconic and there will be a lot of people that will come along in the future that will get compared to him and wanna be him but there will never be another Rey Mysterio. There is a place for those guys like we talked about. It may not be the main event but there is a place for them so if you're gonna go out on social media and say those things and the minute people start firing back at you, you back down or you cower away or you try to say it was a joke, that's when I get irritated."
To wrap it up, Corbin contrasted his and Strowman's contrasting roles in WWE at the moment. While Baron is a villain whose work is intended to make people hate him, Braun's goals, as a babyface, are the opposite:-
"Stand behind what you say, be a man and back it up and also, for me, I'm going out there, for ten years now, I've irritated people and not cared how they felt. My job is not to make anybody who watches what I do happy. That is not my job. For right now, Braun, that is his job. His job is to go out, get people excited, he's on that side of the fence, he's a 'good guy' if you will and so to go out and do that, I don't understand it but you know, I think that you should take pride in being a big man and putting on a show like that but the minute you have to tell people how good you are and make up your own star rating, I'm out."
Braun's comments drew flak not only across the fanbase, but backstage in WWE as well, with his "flippy flipper" remarks reportedly creating heat.