WWE's Current 15 Year Stock High Is Tied To Their Domestic TV Future
Vince McMahon was "officially" recognized as a billionaire by Forbes Magazine this month (#1,372 out of 1,645).
The WWE stock price has skyrocketed in the past six months from $10 to $27.
Hundreds of thousands have signed up for the new WWE Network.
The WWE closed the books on 2013 with their 2nd highest year on record, topping more than $508,000,000 in revenue.
Yet, all of this may be hiding a foreboding future. You can comb through twenty years of WWE Financials and SEC filings, but the key to the story is simply this: Everything depends on Domestic TV Rights.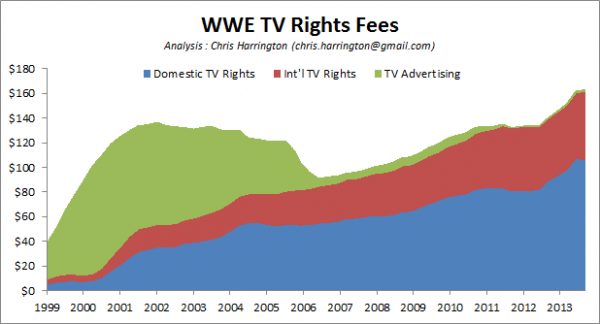 Last year WWE made their domestic television programming deals coterminous (ending on the same date) for September 2014. They've been shopping the whole kit and caboodle of television programming (primarily Monday Night Raw & Smackdown, but also Main Event, Total Divas, Saturday Morning Slam) as a single bundle to interested parties. Initially, NBCU (which owns both USA and SyFy channels) had a period of exclusive negotiations but that expired on February 15 without a deal being struck. WWE has a long history with USA Network, dating back to the 1980s and especially with top executives such as Bonnie Hammer (currently the Chairman of NBCUniversal Cable Entertainment Group which oversees channels including USA, SyFy and E!). Still, NBCU and WWE were reportedly "far apart on price" so WWE has been negotiating with a wide variety of other networks.
The top alternatives to NBCU were rumored to be Viacom (Spike) and Fox (FS1 or FXX), though everyone from Disney and A&E to Discovery (TLC) have been mentioned as potential suitors. WWE has twice reaffirmed that it would announce their decision in April and at one point it was suggested that the decision deadline was March 4. Thus far, there's been no specific media leaks indicating which network (NBCU, Viacom, Fox, TBS, Other) is in the lead and most of the recent WWE coverage has been about the WWE Network and not the domestic television rights negotiations.
In 2013, WWE Domestic TV Rights generated $105.9M. That's the single largest stream of revenue in the company. It's followed by North American Live Event revenue ($81.4M), Domestic PPV Revenue ($66.9M), International TV Rights ($55.0M), Licensing ($43.6M), International Live Event Revenue ($30.1M), Home Entertainment ($24.3M), WWE.com ($23.0M), Venue Merchandise ($19.4M), International PPV Revenue ($15.6M), WWEShop ($15.5M), WWE Studios ($10.8M) and assorted remaining revenue streams ($16.5M, including Magazine Publishing, the cancelled Classics on Demand channel, Superstar Appearances and Television Advertising). Last year Domestic TV Rights represented more than a third of OIBDA (operating income before depreciation and amortization).
WWE's stance is that they deserve triple (or at least double) their current Domestic TV Rights. The Wrestling Observer pegged the target around $280M in the 2/3/14 issue. WWE considers their current "Rights Fees per Viewer Hour" a complete steal when you compare against either selected scripted cable programs or Premium Sports Programming (MLB, NASCAR, NHL, NBA). WWE programming does receive high ratings for USA and SyFy. Live sports programming has been highly coveted by networks because it's viewed a "DVR-proof" and WWE loves to tout that over 90% of their viewers watch the show live. As of late, WWE's favorite target has been the rich NASCAR deal ($8.2B/10 yr with Fox & NBC). WWE's basic philosophy has been "if they can do it, so can we" and "now is the perfect time". Vince McMahon has been exuding confidence that they can land the deal. You'll note that the WWE stock began it's dramatic climb immediately following the Halloween Conference Call.
How likely is it that WWE will prevail? The biggest problems with WWE programming isn't the viewership, it's the low advertising rates that the programming commands. While Chief Revenue & Marketing Officer may declare, "We should be valued like sports" it doesn't make it so. In the television industry, WWE is still viewed as "entertainment" and NBCU has not been successful with raising CPMs for Raw despite it being the top-rated USA Show. Furthermore, the litany of post-Raw programming has done little to prove that WWE programming has a real "halo effect" on other network programming. Monday Night Raw might keep USA perched as the #1 Network on Cable, but it has done very little to help the litany of other USA Network shows that follow it.
To achieve successful rates increases, WWE needs to be able to play at least two bidders against one another - similar to what they did with their UK television contract. In that case, the established contract-holder BSkyB beat out the upstart rival BT Sports for a new five-year deal starting in 2015 which was rumored to be at about three times their previous rate. This contrasts with 2005 where WWE was left stranded after Viacom (Spike) pulled out of negotiations. WWE lost leverage with NBCU (USA) and ended up with a deal that virtually eliminated their domestic television advertising. Instead of gaining $40M in licensing fees, WWE dropped from more than $50M in Television Advertising in 2004 to $6M in 2007.
WWE is learning from their past mistakes. They began the domestic & international TV rights negotiating periods much earlier than last round. They have retained Chris Bevilacqua, notable for negotiating top Big East and Pac-12 TV deals. (Bevilacqua also got some attention for back in November when he declared that WWE was a "Hidden Gem" on an episode of the Forbes SportsMoney program.) They've spent every conference call for months proclaiming how woefully undervalued they are and promising investors that they were going to have a big increase.
So, in one corner you have the WWE narrative: Live Sports + Undervalued + Large Passionate & Dedicated Audience + Massive Social Media Activity = Due for a Major Rates Increase on the scale of $220M to $340M. On the opposite side are the analysts who put value of the highly rated unable to obtain lucrative advertisers at $140M to $180M. Timing is good and it seems very unlikely that WWE will walk away from these negotiations earning less than today. However, a lot of the stock rally seems to be hype. The fundamental metrics that television networks are evaluating still don't point to a massive increase.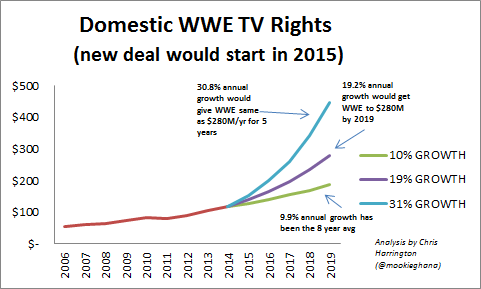 In the end, after examining all of the evidence, reading all of articles, talking to media analysts and wrestling reporters, reading the SEC filings and crunching the numbers, I expect WWE will end up making a deal with NBCU. Here are my three reasons.
I. NBCU continues to grow and change
In October, NBCU implemented CEO Steve Burke's new strategy which was considered a "radical overhaul of advertising sales operations". That move appointed Dan Lovinger as the executive in charge of sales for NBC, USA, Syfy and WWE programs. His goal is selling advertising inventory across demographic and thematic lines rather than network by network. It€™s a bold strategy that would change how television advertising has historically been handled, and possibly could circumvent some of the negative stigma that professional wrestling has historically had with advertisers. I especially find it intriguing that Lovinger€™s responsibilities are not just for the networks, but specifically WWE is called out. Until other networks are interested in implementing such progressive advertising models, NBCU stands out.
Furthermore, NBCU is aggressively expanding their footprint on the American cable operators. In December 2009, NBCU bought cable operator Comcast and recently announced plans to takeover Time Warner Cable. WWE€™s lifeblood is from their television programming (it€™s foolish to believe that they could move their programming to the WWE Network and survive as a company) and it€™s in their interest to retain a strong relationship with such a heavy-hitter.
III. Unclear advantages of alternative networks
It€™s ambiguous what exactly, besides money, other networks could offer WWE.
Certainly, WWE has followed UFC€™s adventures with Fox ($100M/7 years), which includes putting several UFC events on Fox along with airing other events on their FS1 network. FS1 regularly averages less than half a million viewers in primetime. WWE would serve as a strong ratings draw (akin to what they did when they moved Raw to TNN/Spike), but may damage the Fox Sport€™s credibility for €œSports€ content as well as cost a chunk of change which they€™d like to spend on other actual live sports programming rights.
Next to NBCU, Viacom is probably the strongest contender as they have struggling wrestling (TNA) and MMA (Bellator) entities. It€™s even possible that putting wrestling on before Viacom-owned Bellator could actually achieve the rarified WWE halo effect , something Raw did on Spike for UFC€™s Ultimate Fighter almost a decade ago. However, Viacom may be wary from their last go-around and especially concerned they suffer another €œWinner€™s Curse€ by overestimating the true value of WWE. Presumably €œTotal Divas€ could join a reality channel like MTV with Viacom, but it€™s questionable whether Viacom would be ready to reshuffle their whole portfolio to just keep WWE happy.
III. Historic Relationship
WWE has had an extremely long-standing relationship with the USA Network dating back to the early 1980s. When WWF left the US A Network for Viacom (TNN), former head Bonnie Hammer was off working for the Sci Fi channel. She was back at USA when WWE returned and played a role in luring the company back. Now, she€™s even more powerful player as the €œQueen of Cable€. I believe that WWE will choose to stick with a company and executives they€™ve known and worked with for many years. Overseas, WWE just renewed their UK deal with BSkyB furthering their €œ30-year partnership€.
Consider also the investment by NBCU and decision to expand USA€™s Monday Night Raw to three hours. That underscores close the partners have been in recent years. They€™ve also launched new television projects such as €œTotal Divas€ which has a natural fit on NBCU€™s E!, due to the network€™s heavy female skew and appetite for Reality programming. NBCU has even offered space in the €œUniversal Studios Theme Park€ in Orlando, FL where WWE could set up a physical WWE Hall of Fame. It€™s very difficult for WWE to finding another partner that can offer the array of channels, including occasional NBC network coverage, timeslots and partnership that NBCU brings to the table.
Conclusion
Ultimately, I believe that WWE will stick with NBCU and end up in a multi-year deal whose average value is somewhere notably south of $185M in Domestic Rights. They won€™t hit the €œdouble€ in rights that they promised and accordingly investors will be disappointed and the stock price will suffer. This, of course, is paradoxical because the new TV Rights deal ought to make them far more profitable since neither TV production costs nor talent costs should not be likewise increasing with this renewal.
I believe the fundamentals for WWE are ominous: the WWE Network is Expensive and Risky, WWE Studios continues to devour money, Business isn€™t terrific and the earliest things could turn around financially would be 2015.
Create Content and Get Paid
---