10 Copycat Indian Movies That Ripped Off Hollywood
8. Munna Bhai M.B.B.S (2003)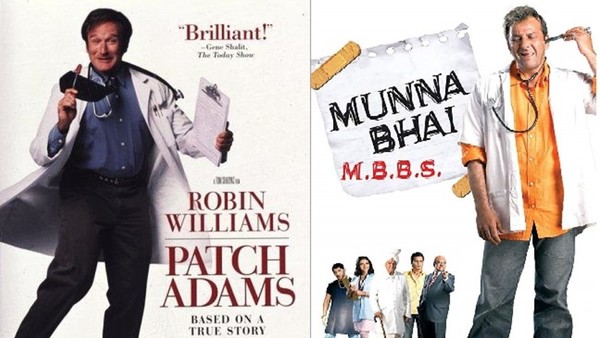 Ripped Off: Patch Adams
Patch Adams tells the real-life story about a medical school outsider, who uses unorthodox and fun methods to heal his patients, and turns the hearts of his fellow cold-hearted medical school students. This story is also the central premise of Munna Bhai M.B.B.S, which also tells the story of a kind-hearted gangster Munna Bhai, who gets into medical school and uses his unorthodox ways to heal patients and change the minds of his fellow students and staff on how to treat patients.
Both stories have a lot in common, including the main conflict between our titular heroes and the Dean of their respective medical schools.
The biggest reason why Munna Bhai is on the list is because of the remakes it inspired. A Tamil remake called Vasool Raja M.B.B.S and a Telugu remake called Shankar Dada M.B.B.S. Remakes are not new things in Indian cinema because of the variety of different languages and regions when a movie is successful in Bollywood it would then be officially remade into Tamil (Kollywood) and vice-versa. The obvious intrigue here is that the original movie that inspired Munna Bhai M.B.B.S was Patch Adams.