10 Funniest Non-Monty Python Films From Monty Python Members
8. Fierce Creatures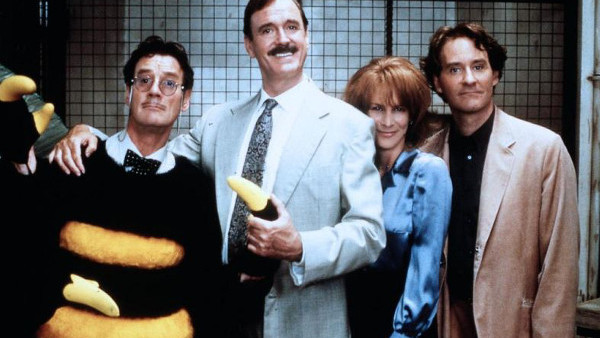 Most of the Fish Called Wanda gang is back together a decade later to prove that they hadn't lost a step. Unfortunately, despite their best efforts, they instead proved that, collectively, they'd nearly lost an entire staircase.
Aside from the fact that Jamie Lee Curtis somehow looks even sexier in this so-called "spiritual sequel," the rest of Fierce Creatures flows like a paint-by-numbers recreation of Wanda's broadest strokes. Its edges are softer, its hues less vibrant, and its sexual innuendos more willing to slap you right in the face with its hyper-aggressive wang.
There are still a few moments of gut-busting hilarity sprinkled throughout, such as when Cleese's zoo director insists a patron tastes a woman's leg blood to prove that she faked her injury (which she didn't), but overall, there's a genial attitude that doesn't quite lend itself to uproarious fits of laughter. You're more likely to smile than guffaw.
In 2008, Cleese famously quipped that, if he had the opportunity to live his life all over again, he wouldn't have made Fierce Creatures. Then again, Cleese is always a bit harder on his own work than most everyone else. It's not really that bad of a film, it's just a little disappointing considering that we know what this talented group is capable of.