10 Gory Celebrity Movie Deaths
9. Kevin Bacon Gets An Arrow Through The Throat - Friday The 13th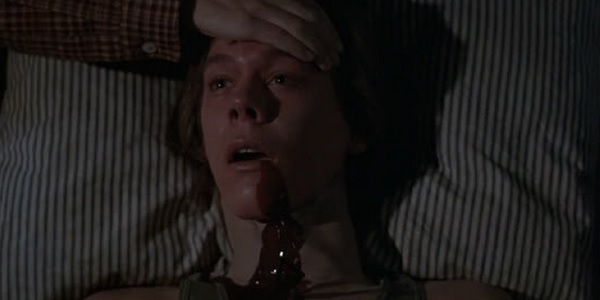 When he starred in one of cinema's most iconic slasher films, Kevin Bacon was a virtually unknown actor, though he certainly stuck in our minds thanks to this awesome death scene in the original Friday the 13th. Bacon plays Jack, one of Camp Crystal Lake's counselors, and in the classic tradition of horror movies serving as dubious moral lessons, he meets his end after having hot sex with Marcie (while unaware that Ned's corpse is in the other bunk) and lighting up a doobie. While relaxing on his bed, he feels a blood drop from Ned's corpse land on his head, and just as he reacts, a hand emerges from underneath the bed and grabs his head, followed up by an arrow being forced through the bed and also through his throat. He is utterly helpless as the blood oozes out and he quickly expires.
Satisfaction Rating: 6/10.
Not that we have anything against Bacon as an actor, but it's always fun to see actors starting off in smaller, less glamourous parts, and there's an undeniable schadenfreude quality to seeing the now-acclaimed actor putting in the hard, unpleasant graft in a relatively mindless (yet iconic) horror movie.