10 Most Spiteful Horror Movie Easter Eggs
9. Taking A Bite Out Of The "Competition" - Jaws 2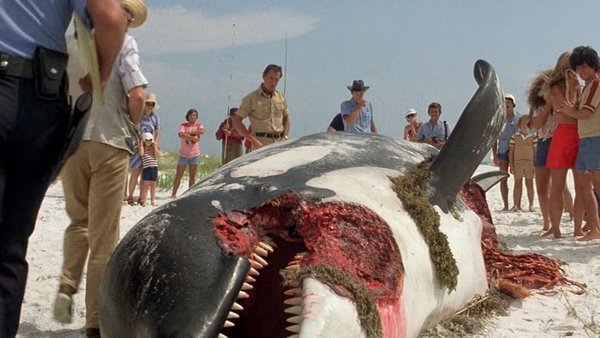 Early on in Jaws 2, an orca's brutalised carcass washes up on Amity Island beach, which Chief Martin Brody (Roy Scheider) believes is the result of a shark attack.
While at face value this might seem like a typical plot point for a shark movie, it was actually a sly thumbing of the nose at the film Orca: The Killer Whale, a shameless Jaws rip-off which was released in 1977 - two years after the original Jaws - and unsurprisingly failed to find the same success.
Not content to merely imitate Jaws, though, Orca: The Killer Whale also arrogantly lampooned Spielberg's film by featuring a sequence in which an orca slaughtered a great white shark, in effect implying that Orca's titular creature was a major upgrade from Jaws' own great white.
And so, as great whites generally don't attack orcas in the wild, Jaws 2 dumping an orca's chewed-up corpse on the beach was Universal clapping back at Orca: The Killer Whale and throwing down the gauntlet.