10 Star Wars Comics Moments That Shocked The World
10. Vader And Luke Duelled BEFORE Cloud City - Star Wars #2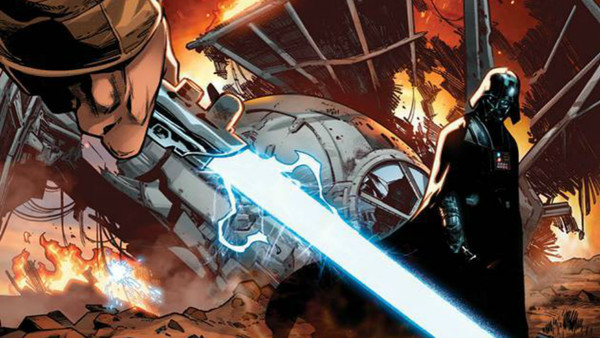 The flagship title from Marvel's new era of Star Wars comics was, well, Star Wars, written by Jason Aaron with art from John Cassaday.
Like the rest of Marvel's first wave of Star Wars comics, Star Wars took place within the three-year-gap between A New Hope and The Empire Strikes Back, providing an in-depth look at how the heroes of Yavin attained legend status within the Rebellion, and how the Alliance itself was pushed to the brink before finding Hoth.
Aaron, who at the time was in the midst of crafting a character-defining stint on Mighty Thor, didn't waste time at all in providing readers with a terrifying encounter, where Luke Skywalker comes face-to-face with Darth Vader for the first time.
The duel occurs as Luke and the gang carry out a Rebel mission on Cymoon 1. Vader arrives, and rather than listening to Obi-Wan's pleas for him to runaway, Luke (still incensed by Kenobi's death and under the belief that Vader killed his father) decides to confront him on the spot.
It goes about as well you would imagine, with Vader disarming Luke in a split-second, before eventually realising he's wielding his old weapon, putting the Dark Lord of the Sith on the path to discovering his son's true identity.