15 Things You Didn't Know About Anchorman: The Legend Of Ron Burgundy
3. Improv-a-ganza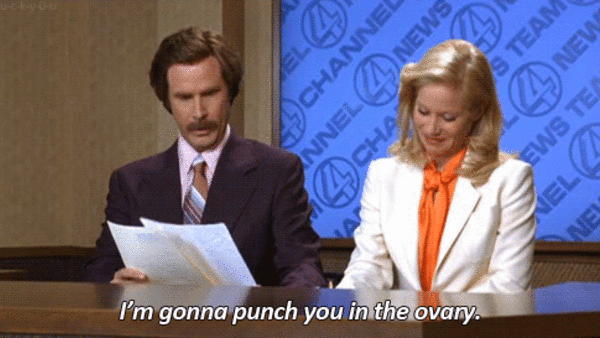 With a cast full of brilliant comedic actors, it comes as no surprise that the performers were given a lot of creative freedom on set and improvised a lot of their dialogue.

Due to this, the editing team ended up with at least six versions of most of the scenes and up to 20 different varieties of each reaction line to choose from in post-production.
Unsurprisingly, the crew ended up with over 3 hours worth of footage, enough to make the movie and it's straight-to-DVD counterpart.
Many of the movies most memorable lines were thought of on the spot, including Ron Burgundy's vocal warm-up exercises of saying, "The Human Torch was denied a bank loan" or "The arsonist has oddly shaped feet".
One line that wasn't improvised was when Champ Kind threatened to take out Wes Mantooth's mother for a nice seafood dinner and never call her again. This line was a nod to the Dan Dare comic book series in which a near identical threat is made.