20 Things You Didn't Know About SPECTRE (2015)
19. I Know Where You Keep Your Gun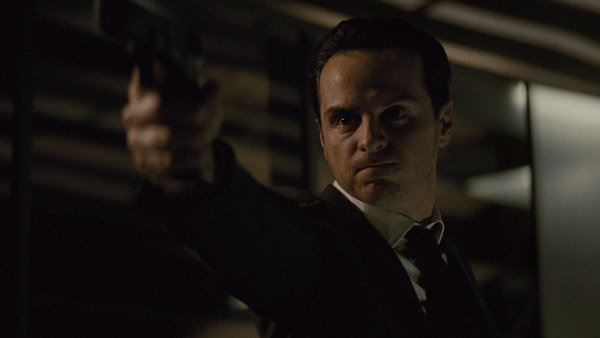 Although the unhealthy rivalry between James Bond and Ernst Stavro Blofeld takes centre stage in SPECTRE, the organisation's plan is to encourage nine countries to sign up to "Nine Eyes", a seemingly legitimate surveillance programme run by SPECTRE agent, Max Denbigh (Andrew Scott), who is dubbed "C" by Double-0 Seven. SPECTRE will have access to the information gathered by the world's intelligence agencies to use for its own nefarious purposes.
Double-0 Seven discovers C's true allegiances and communicates this to M and Q, who break into C's Centre for National Security (CNS) in London. Q shuts Nine Eyes down before it can go live, whilst M confronts the gun-toting C, who taunts Gareth Mallory that his code name must stand for "moron"; however, when C pulls the trigger, the firing pin lands on an empty chamber. M reveals that he emptied C's gun, victoriously announcing "And now we know what C stands for: careless".
This is a nod to Daniel Craig's introduction as James Bond in Casino Royale (2006), in which MI6 double agent, Dryden (Malcolm Sinclair) attempts to shoot him, only to discover that Bond has already emptied his gun.