8 MORE Deleted Scenes That Nearly Ruined Great Movies
7. The Bums - Ghostbusters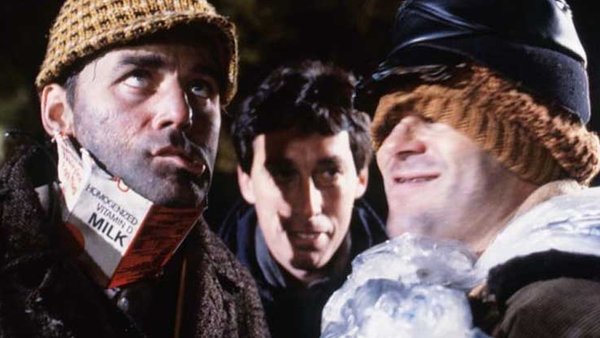 Ghostbusters is by and large a flawless film. A perfect cast carries an incredible concept through a wonderfully paced story with an award winning theme song. Heck, even the logo is recognised as one of the most memorable emblems in all of entertainment.
The core players in Ghostbusters had a background in sketch comedy having been a part of SNL and Canada's Second City Television. Apparently Bill Murray and Dan Aykroyd couldn't quite let this part of their history sit out the production of Ghostbusters however. A second act scene saw them take on the role of two Manhattan hobos walking through Central Park discussing who would have the upper hand in a fight between a boxer and a martial artist.
Whilst the scene is funny in its own right, there's no way it fits the tone or pace of the movie. More than anything else, Ghostbusters was not the kind of comedy that allowed its core actors to suddenly play bit-parts for jokes. The comedians needed to recognise that they had ascended from sketch comedy and were working on a blockbuster.
Even with Rick Moranis' Louis Tully racing through them to break the scene up, it was clearly immediately obvious to the editors that had this been kept in it would've been "that one really out of place scene in a masterpiece".