EXCLUSIVE Bad Times At The El Royale Interview With Drew Goddard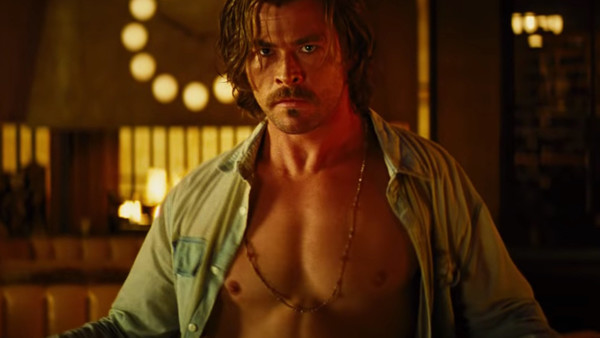 Q: Chris Hemsworth plays a cult leader – of course you've worked with him before.
A: "This is my second film with Chris. My first was The Cabin In The Woods. He got cast as Thor in the middle of shooting our film. I've known Chris since we were both 'babies', quite frankly. It's been so satisfying to see him rocket to superstardom, because he's such a lovely and talented person. When we filmed Bad Times, it was with a lot of the same crew that we shot Cabin with and both were shot in Vancouver so it very much felt like a family reunion. He's such a spectacular talent. He has absolute dedication to his craft. His technical skill, his unmatched work ethic, his willingness to push himself into vulnerable emotional places time and time again… he's everything in an actor a filmmaker could want.
Q: What about rising star, Cynthia Erivo?
A: "Boy, 'rising star' is the correct term, because Cynthia is about to rocket into the stratosphere. She is an undeniable force of nature. Her character, Darlene Sweet is a lounge singer and there are a few times in the movie when she sings live. It was very important to me that we did not lip sync and I wanted somebody who could actually sing well, because we have some complicated songs in the film and I didn't want to cheat. I said, 'Let's start looking at all the singers of the world.' Cynthia had won a Tony award for The Color Purple. She came in and just melted the walls. She is so talented. Her singing is off the charts. And as an actress, she has a singular ability to break your heart; I can't say enough good things about her."
Q: What can you say about Lewis Pullman's character?
A: "He plays the concierge named Miles. I probably saw every young actor in Hollywood for this part. I needed somebody who could hold the screen with the other 'heavyweights'. When we met it was a similar sort of thing that I felt when I first saw Chris Hemsworth in an audition, when you're looking for magic. Lewis walked in and started reading for the part and I felt the hairs stand up on the back of my neck and I went, 'Oh, that's our guy!'"
Q: The characters are all complex.
A: "Look, I have tremendous empathy for the characters I write and the actors I work with. These people, like all of us, have flaws and complexities and they have sadness.
My hope for the film is that people can relate to the different characters at different times in the movie. When we started to screen the film, we found that people have allegiance with one character and then that allegiance changes and changes again and again. Part of the reason that I love having such a great ensemble cast is that you're never bored. Whenever you're in one scene, you cut to a new character and you go, 'Oh right, I forgot about her. Now I get to see what she's up to again.' There's something fun about having this many good characters. It's an editor's dream quite honestly."
Q: The film seems to explore the idea that we do all have our dark sides and most of us have goodness as well?
A: "I think that's true and that is a part of this film. That is part of the reason why I began with archetypes for the main characters. There is the tradition of the lounge singer, the priest, the vacuum cleaner salesman, the concierge and the dark outlaw with a mysterious past. It was very important to me to start with the archetypes and explore them as actual people, rather than as storytelling devices. That was the inspiration for the film and I think through that the characters reveal themselves and the themes of the movie reveal themselves."
Q: Can you discuss the style and look of the film?
A: "It was interesting getting to design my own hotel, and it was very much a collaboration with my longtime production designer Martin Whist. The El Royale is based on our asking, 'If we could design our dream hotel, what would it be?' It's perfectly symmetrical, half in California, half in Nevada. Each side is inspired by the characteristics of its corresponding state. We tailored the rooms to the themes of the states, and I love both states. I live in California now and I go to Nevada often so it's very much a love letter to those two states and the fun of having a hotel that straddles the border. California is about hope and opportunity in my mind, so it's a much more vibrant and warmer side.
We have fun with the idea that there are different laws in terms of liquor licenses in Nevada, so you can only drink alcohol on the California side of the hotel. There's also gambling on the Nevada side. We play with location as much as we can."
CONT'D [3 of 4]