EXCLUSIVE Bad Times At The El Royale Interview With Drew Goddard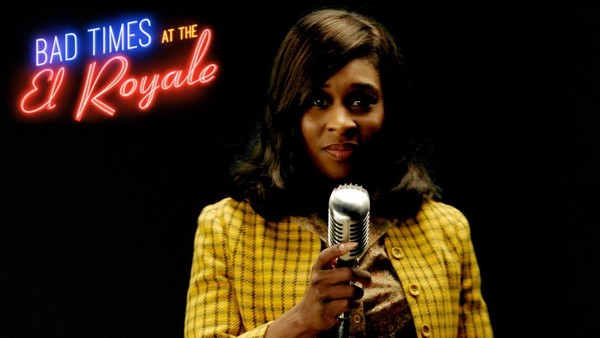 Q: How important and central is the music to this film?
A: "The music is the eighth character of the film. When I wrote the script, I wrote it on spec and I wrote every song choice into the movie so that I could say: 'Don't make this if you don't want all these songs in it, because they are the soul of the film.' The conceit is that there is a jukebox in the middle of the El Royale and so it started with the question, 'What would be on the jukebox there in 1969?' and from then on, frankly, I picked my favorite songs (like 'This Old Heart of Mine' by The Isley Brothers) that I felt had an emotional resonance to a particular scene. The music very much functions as an emotional counterpoint to the story of the El Royale."
Q: Why is it set in the late 60s?
A: "I have always been intoxicated by the 60s. In America, it was a time of great turmoil. You had the Kennedys' getting killed, Martin Luther King Jr. was assassinated, Nixon taking over as President and everything that happened with that, and at the same time there was a revolution in art, and in music and film. So those two things: the tumult of real life, juxtaposed with the inspiration of the art has always captivated me and I wanted to play around in that era. Basically, we're entering my love letter to the 60s (laughs). The things that I love about that era and these characters all blended together to create this world."
Q: What do audiences have to look forward to with Bad Times At The El Royale?
A: "I love movies where you don't know what to expect, when you can surprise an audience, when you can make them laugh and break their heart too. It is my ambition with this movie to give the audience something they have never seen before and take them on a ride and journey to a place they have never been to before."
Q: Are there any dark films with twists and turns that have inspired you over the years?
A: "Well, when I am making a film, I always like to gather the crew and we watch movies and talk about them. For this one, we started with Casablanca. We watched Out Of The Past, which is one of my favorite film noirs, as well as Klute and Chinatown (of course). You've got to look at Chinatown if you're doing a noir (laughs)! Also we watched Barton Fink because the Coen Brothers have been a huge influence on me. We looked at crime novels as well, by Dashiell Hammett, James Ellroy, and Flannery O'Connor, to name a few."
Q: You are obviously passionate about your work; did you grow up wanting to make movies?
A: "To be honest, I grew up in a small town in New Mexico. It couldn't have been further from the entertainment industry. As a child, all I knew was that I loved books and movies. It sounds naïve today, but I didn't understand that this (writing and directing) could even be a job. I was really a kid with an overactive imagination and it wasn't until my late teenage years that I even understood, 'Oh, writing is a job; people will pay you to write.' Once I realized that I could pay the bills that way, it became the goal."
Q: It seems that in your work, you're interested in what makes people tick, in Bad Times and the TV show you've been directing, The Good Place, with Kristen Bell and Ted Danson?
A: "It's certainly on my mind these days (laughs) looking at what makes us tick. From a moral point of view, I think The Good Place is a strange cousin to this film. They're different genres, but I'm dealing with similar issues in very different ways.
Q: What's next for you?
A: "Well, I don't know. I've learned not to have too much of a plan. After Bad Times At The El Royale I will assess what to do next. I've learned to just trust that I'll follow my inspiration knowing that it will lead me to strange places, but it always tends to work out for the best."
[Interview By Elaine Lipworth elainelipworth.com]
Bad Times At The El Royale is released in UK cinemas this Friday 12th October.
Create Content and Get Paid
---