Guardians Of The Galaxy Vol. 2: 10 Funniest Moments
10. The Entire Opening Sequence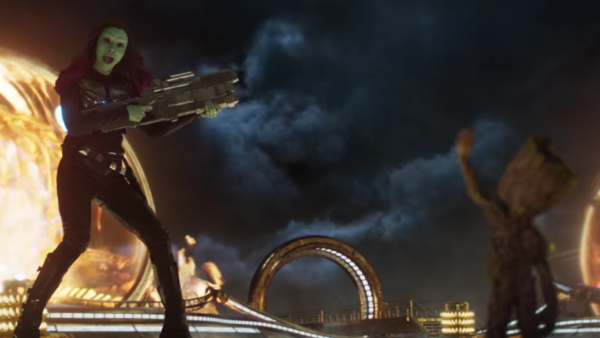 Guardians of the Galaxy's director/writer James Gunn had stated prior to the film's release that his goal with the beginning of Vol. 2 was to create the single greatest opening sequence to a movie ever made. And while the film has only been out for a short time, it seems that it may be pretty safe to say he succeeded.
The scene that opens of Vol. 2 is absolutely brilliant. It combines everything from the previous film that we know and love and turns it up even further. Baby Groot innocently dancing while the rest of the Guardians take on the Abilisk was the best thing that could have possibly accompanied the opening credits.
What makes it even funnier is the brief interactions he has with the rest of the team, such as quite literally kicking Drax while he's down or cutely waving to Gamora who takes time out of the attack to humor him.
Moreover, all of the other characters get their licks in in the comedy department as well. From Star-Lord and Gamora's passive-aggressive discussion about the latter's gun, to Rocket generally being a pest, as well as Drax's hilariously flawed battle strategy and the results that follow.
This intro absolutely kicked the door down.
Noah Dominguez
A film-loving wrestling fan from west Texas who will live and die by the statement that Return of the Jedi is the best Star Wars movie and unironically cherishes the brief moment and time when Deuce & Domino were WWE Tag Team Champions. Hates honey, but loves honey mustard.
See more from Noah