Desperados III: The Real-Time Tactics Game You Have Been Waiting For
Sponsored Post: Brought to you in association with THQ Nordic.
It's been 13 years since real-time tactics fans jumped into a new Desperados game, but the long-awaited sequel (or to be more precise, prequel), simply titled Desperados III, has just launched on PS4, Xbox One and Steam.
Dropping on June 16th, the game (this time developed by Mimimi Games and published by THQ Nordic) picks up with series protagonist John Cooper in a prequel set before the events of Desperados: Wanted Dead Or Alive.
Returning to the franchise's roots with an experience heavily inspired by that much-revered game, Desperados III offers a unique hardcore tactical stealth experience set against the backdrop of a vast Wild West setting. With playing smart, being aware of your surroundings and figuring out the best paths through enemy-infested areas being the name of the game, Mimimi have put the emphasis on player freedom.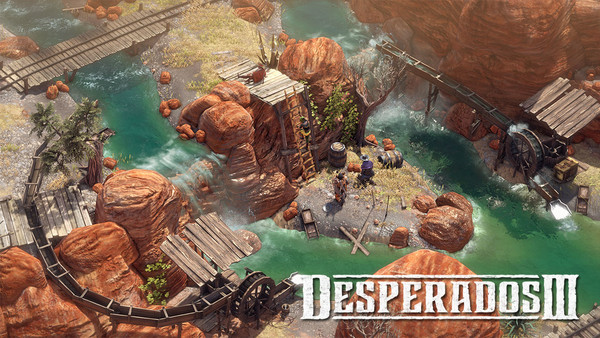 With five characters to play as, each with their own unique weapons, tactics and abilities, using each smartly is vital in getting out of these levels alive. The developers have promised that no matter how you want to tackle each encounter, for instance whether you opt for a lethal or non-lethal approach, a satisfying execution will always be the reward for intelligent planning.
Desperados III also promises a strong narrative focus as well, with these characters being more than the sum of the tactical possibilities they offer in combat. According to the synopsis on the official website, Cooper will be joined on his "quest for redemption" by Kate, a runaway bride, hitman Doc McCoy, a trapper called Hector and Isabelle, a voodoo priestess who can influence the behaviour of enemies.
According to THQ Nordic, the Wild West setting itself will pay tribute to the giants of the genre, resulting in adventures that "lead [Cooper] and his gang from rural towns, over swamps and riverbanks, and finally to a dramatic showdown worthy of Wild West legends."
The showdown mode also provides the player with extensive tactical options when things get heated as well, allowing you to respond smartly to surprise ambushes. With the tap of a button you can pause the action at any time to analyse the situation you're in, and use your own cunning to turn a dangerous situation into a hard-fought victory.
The sequel has already made an impression on critics, garnering a strong rating of 86 on Metacritic for the PC edition. Critics have lauded praise on the title's intricate level design, the complimentary nature of each character's playstyle, and the team's dedication to delivering a hardcore stealth experience, with some, such as God as Geek, labelling it a "masterpiece".
Desperados III is out on now on PS4, Xbox One and Microsoft Windows. You can order online here.
In the coming days, our coverage of Desperados III will continue, in association with THQ Nordic, with an article exploring the 10 Things You Need To Know About Desperados III.
Create Content and Get Paid
---