Alter Bridge: Ranking All 5 Studio Albums
Are you ready to Rise Today?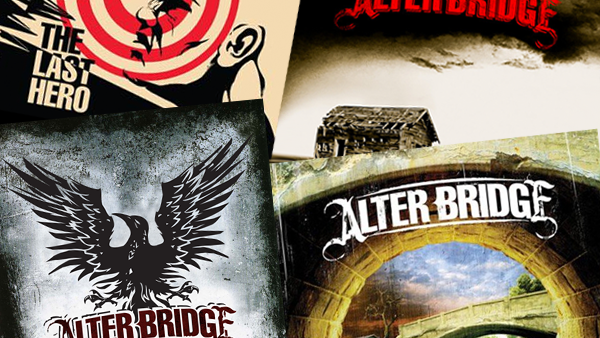 Alter Bridge are undoubtedly one of the hardest working, fastest rising stars in the rock n' roll business today. Myles, Mark, Brian and Scott have come a long way from "Is that just Creed with a new singer?" to headlining stadium shows all over the world. Such a rise to prominence even included Wembley, seeing the band touted as a possible headline act at Download Festival in the near future.
The range of Alter Bridge over the last 13 years has been spectacular. Heavy, driving anthems like Isolation and Crows on a Wire are balanced perfectly with softer, heartfelt songs like Watch Over You and Life Must Go On. But no matter how different each song sounds and feels, there is always meaning and feeling poured into their composition.
Even the track listing from the recently released 'Alter Bridge: Live at the O2 Arena + Rarities' features songs spread across all five of the band's studio albums, from 2004's One Day Remains to 2016's The Last Hero, showing that all these albums still have relevance, and more importantly to the fans, they can resonate many years later.
All that said, with five albums to dissect and contemplate, which is the best?
5. AB III
None of the albums on this list are bad - and it would be unfair to say that any of these are the 'worst' - so I will refer to AB III as the fifth best album.
AB III, the least creatively named album here, boasts some of Alter Bridge's strongest songs; Ghost of Days Gone By and Slip to the Void are still fan favourites to this day, and for a few years Isolation was played as part of the band's encore – a place reserved for only the best, most popular tracks.
Also included is the heart-wrenching Wonderful Life; a beautiful, bittersweet song sang to absolute perfection by Myles (Slash doesn't call him Mr. Miraculous for nothing). The only reason that this is fifth best and not higher, is because AB III is the darkest of the albums; there is a definitive tone that is rarely found throughout the rest of the albums.
This isn't necessarily a bad thing as there is nothing wrong with a more sombre feel, and while they are good songs in their own right, you have to be in the right mood to listen to the likes of Still Remains or Show Me a Sign.