Doctor Who: 8 Past Roles Proving Keeley Hawes' Casting Is Awesome
Because Doctor Who's new villain used to be Lara Croft, and that in itself is fantastic.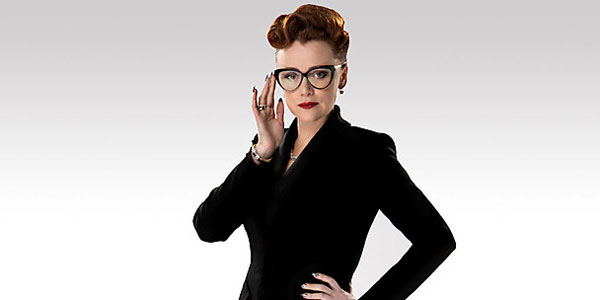 Ever since last August when Peter Capaldi was revealed as the newest incarnation of everyone's favourite Time Lord, more news about the eighth series of Doctor Who has been leaking steadily into the public domain as we curse Steven Moffat for making us wait so long for everything. The first official announcement in January saw the Doctor's new outfit, then in February we learned of a new male companion, Danny Pink (played by Samuel Anderson), joining the Doctor and Clara, and now March has brought the unveiling of Keeley Hawes as Ms Delphox, a villainous banker described as "a powerful out of this world character with a dark secret." Thanks for that, Moffat, it wasn't vague at all. Hawes has already expressed her delight at working on Doctor Who (who can blame her?), but why should the fans be delighted? And, more importantly, what can we watch until Autumn to get psyched other than The Thick Of It? Here are eight roles from Keeley Hawes' career that prove exactly how much awesome she'll be bringing to the show this autumn...
8. Hotel! (2001)
Hotel! is a 2001 TV movie about, believe it or not, the running of the quirky Nearby Hotel. Keeley Hawes plays the receptionist, Tricia, in this pun-filled comedy that makes Lee Mack look like he's just not trying hard enough (Hawes' first scene involves handing her boss an email. An email being a piece of paper in the shape of the letter 'E'. Yeah.). In what I can only describe as a cross between a Carry On film and Monty Python, Tricia and everyone else in the hotel end up held hostage in a way that somehow also involves a terrorist attack, the President of the United States and the Bosnian War.
It is available in its entirety on YouTube
and I would highly recommend it to, well, anyone. Hawes delivers her puns with vigour and ... oh who am I kidding? It's dreadful. But it's also one of the best things I've ever seen. But that's not even the best bit. The more keen-eyed of you will have spotted that the picture above shows Keeley Hawes standing next to her boss, played by none other than Peter Capaldi, the Twelfth Doctor himself! But THAT's not even the best bit, either! The film's 'hero' (if we can call him that) is a man named Ben, whose mission it is "to outwit the terrorists, save the President and rescue the guests single-handed", and is played by none other than Paul McGann, the Eighth Doctor himself! That's right, kids, here we have a tongue-in-cheek, so-90s-it-hurts, pun-filled comedy starring two Doctors and a villainous banker. What more could we possibly want? Well, McGann has recently confirmed his interest in another return to the show following his short reprise in The Night Of The Doctor. Could we really have a Hotel! reunion on our hands? I guess we'll have to wait and see...
Sam Shepherd
I'm a British filmmaker (or, at least, trying to be) and about to graduate with a Film Studies degree. Most of the time I should spend working is actually on Netflix so I obviously have loads of life experience to share with you lovely people.
See more from Sam