Doctor Who: 7 Most Memorable Moments Of Wilfred Mott
In memory of Bernard Cribbins, let's celebrate his best character: Doctor Who's Wilfred Mott!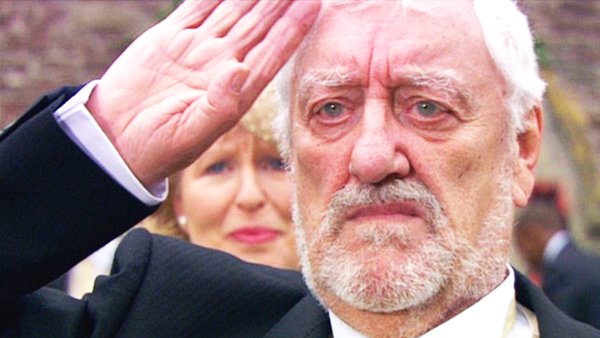 The world sadly lost beloved English actor Bernard Cribbins on 27 July 2022, when he passed away at the age of 93. Cribbins career spanned seven decades, appearing in several films in the Carry On series, classic children's film The Railway Children, and Daleks' Invasion Earth 2150 A.D, the second of two Doctor Who films starring Peter Cushing.
Bernard's work is known and loved by children of multiple generations; first for his narration in beloved series The Wombles, and more recently, playing the title character in the popular BBC series Old Jack's Boat.
However, in his long career, perhaps his most well-known and loved role is that of recurring character Wilfred 'Wilf' Mott in the revived series of Doctor Who. After appearing as a minor, unnamed character in the 2007 Christmas Special 'Voyage of the Damned', Wilf was revealed to be the grandfather of Catherine Tate's Donna Noble at the beginning of series four. He continued to appear on a recurring basis for the remainder of David Tennant's run as the Tenth Doctor, even serving in the companion role for Tennant's final story, 'The End of Time'.
Cribbins is believed to have reprised the role of Wilf alongside Tennant and Tate for next year's 60th anniversary special, which will now be his final onscreen appearance.
In memory of the much loved Bernard Cribbins, then, let's look back at some of Wilfred's best moments.
7. Staying In London (Voyage Of The Damned)
After being beamed down to Earth during a Christmas voyage on the Starship Titanic in Voyage of the Damned, The Tenth Doctor is at first concerned to discover the streets of London entirely empty. Deciding to investigate, The Doctor approaches the only person in sight, an old man running a newspaper stand.
The man, Wilf, explains that London has been deemed no longer safe at Christmas due to the repeated alien attacks that have occurred around that time, while listing off the events of the previous Christmas specials. Most residents have fled for the countryside, while only Wilf and the Queen, safely tucked up in Buckingham Palace, remain in the city. Later in the episode, Wilf is briefly seen yelling at the falling Titanic, warning it not to ruin Christmas.
The scene was memorable enough for Bernard Cribbins to be asked back to Doctor Who the following series, with his character officially named Wilf and written into the story as Donna Noble's grandfather.