Doctor Who Series 10: 7 Reasons To Be Excited About The Return Of John Simm's Master
7. Tying Up The Loose Ends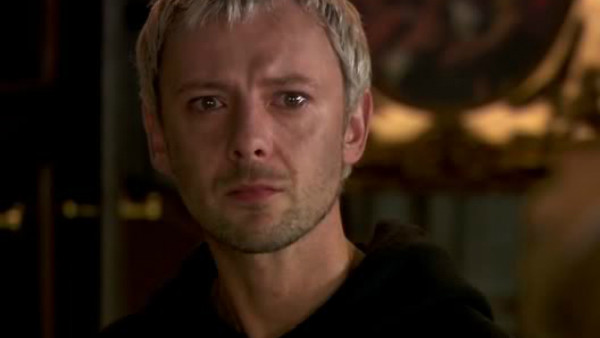 When the Master sensationally returned to our screens as Missy, we were kept largely in the dark as to what happened to Simm's incarnation. He was last seen returning to the time locked Time War with Rassilon and his Gallifreyan entourage. Aside from a brief hint that the Doctor's actions in The Day of the Doctor inadvertently saved the Master, exactly what triggered his regeneration into Missy remains unknown.
For years, the same was true of Paul McGann's Eighth Doctor, until Moffat delighted fans with the surprise regeneration story in the 50th anniversary minisode Night of the Doctor. Such gaps are particular bugbears for the fan-base, as demonstrated by the various attempts in audio and book form to provide the story behind the Sixth Doctor's botched TV regeneration.
John Simm confirmed the rumours of his return in a tweet that implied it's all thanks to time travel. That much goes without saying, but it has nevertheless led some to wrongly assume that he will be plucked out of an earlier point in his timeline (ala The Five Doctors).
We are almost guaranteed to see a post The End of Time Master. He has been spotted with the blonde haired look that premiered in David Tennant's finale, and Steven Moffat has previous in giving fans exactly what they want. Regeneration or no regeneration, we can expect to finally find out how the Master survived the Time War second time around.
Paul Driscoll
Paul Driscoll is a freelance writer and author across a range of subjects from Cult TV to religion and social policy. He is a passionate Doctor Who fan and January 2017 will see the publication of his first extended study of the series (based on Toby Whithouse's series six episode, The God Complex) in the critically acclaimed Black Archive range by Obverse Books. He is a regular writer for the fan site Doctor Who Worldwide and has contributed several essays to Watching Books' You and Who range. Recently he has branched out into fiction writing, with two short stories in the charity Doctor Who anthology Seasons of War (Chinbeard Books). Paul's work will also feature in the forthcoming Iris Wildthyme collection (A Clockwork Iris, Obverse Books) and Chinbeard Books' collection of drabbles, A Time Lord for Change.
See more from Paul