House Of The Dragon Episode Seven Review - 7 Ups & 3 Downs
9. Down - Funeral Decorum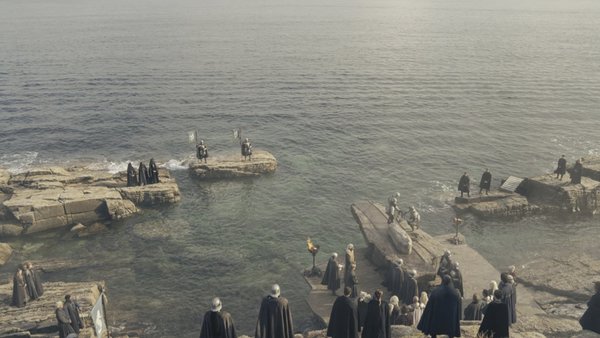 Laena Velaryon was a wise, gentle and serene character. However, this is Westeros, it should have been painfully obvious that everybody would be on their worst behavior for her funeral.
In the first - and easily the most bizarre - instance of appalling funeral etiquette, the mention of Velaryon blood "running thin" draws an audible, shrill snigger from Daemon, who does not even attempt to hide his mirth as last rites are read over the burned body of his wife. This is sharply juxtaposed with the Prince's brooding look of sorrow and regret when he alludes to Rhaenyra that he and Laena were happy together would he really have laughed out loud if this was actually the case?
Next up, Laenor staggers drunkenly around in the sea - as one does at the funeral of one's sister. Regrettably this is not the worst faux pas from the Velaryons as a furious Corlys venomously tells Qarl Correy to "retrieve" Laenor, as if it were somehow Qarl's fault that both he and Laenor are homosexuals.
Casual and blatant homophobia has always been a part of Game of Thrones canon, in keeping with its medieval values and culture, but it doesn't make the latest instalment any easier to watch; one cannot help but feel a pang of sympathy for the pathetic Laenor as he drunkenly flounders in the shallows, in haze of grief at the loss of his sister.