House Of The Dragon Episode Six Review - 8 Ups & 2 Downs
9. Down - Losing Laena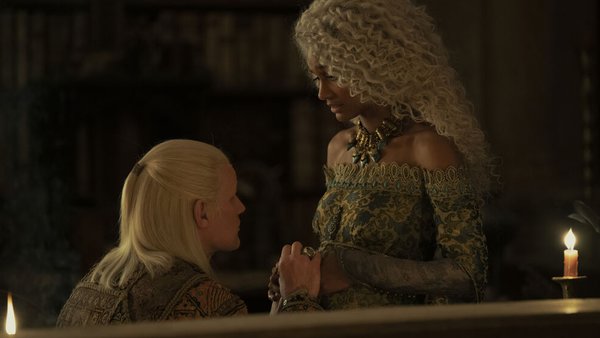 "I want to die a dragon-rider's death".
While Daemon's new bride Laena Velaryon's death is written into George RR Martin's canon, the onscreen impact that Nanna Blondell has in one episode has left audiences pining for more. The Swedish actress owned every single scene she was in as the beautiful Laena, bringing an aura of serenity and wisdom to a landscape usually so dominated by psychotic politicians and grim warriors, before tragically meeting an early end in childbirth.
Laena's ineffable qualities as a character can be summarized by the simple fact that it is entirely believable that a man as enigmatic and mercurial as Daemon Targaryen could care so deeply for her; let us remember that this is a man who referred to his previous wife as his "bronze bitch". In a notably poignant moment, Daemon exhibits compassion and empathy far beyond the abilities of his brother, refusing to consider removing Laena's child at the cost of her life; the usually unreadable Prince is visibly devastated at the news that his wife will not survive labour.
In addition to this, Laena's on-screen death is sheer heartbreak; in Martin's canon, she tries to ride Vhagar one last time but is to weak to do so and dies in Daemon's arms. Strong and independent to the very last on the show, Laena charges her beloved dragon Vhagar to give her a swift death by dragon fire. The deep sorrow in Vhagar's eyes was mirrored in the eyes of audiences across the world as one of the more memorable players in House of the Dragon to date bowed out.