The Walking Dead Season 9: 4 Ups & 1 Down From 'The Calm Before'
The AMC series delivers its greatest - and most unforgettable - instalment in years.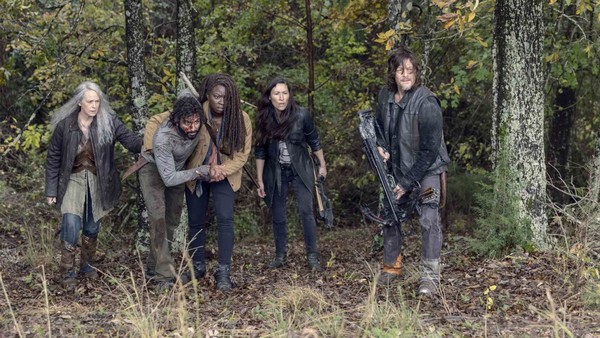 Contains spoilers from The Walking Dead Season 9, Episode 15.
In spite of losing our protagonist, the ninth season of The Walking Dead has restored a lot of fans' faith in the once-great series. The AMC drama has been on a bit of a roll this year, delivering week-on-week and, save for a few caveats here and there, has been the strongest the show has been in years.
While last week's stunning episode filled in some of the blanks of the 6 year time-jump, The Calm Before returned the narrative to the present day, as the four central communities come together for the highly-anticipated Kingdom fair. Carol and Ezekiel welcoming their beloved Henry back home, while the community leaders come together for a meeting that's meant to shape the futures of their settlements moving forward.
However, in spite of the happy celebrations, Alpha and The Whisperers make their presence felt in a way that will have huge ramifications for everyone involved.
While it's true that we've been let down by The Walking Dead in the past, this is far from the case here. The Calm Before is everything you could possibly crave from an episode of the AMC series, and it very much feels as if it belongs in one of the earlier seasons of the show.