10 Amazing Small WWE Royal Rumble Moments You May Have Missed
9. Big Boys - Royal Rumble 2020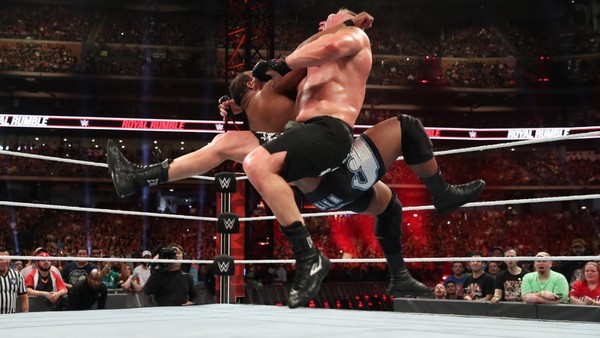 How do you get a performer over? It's a question as old as pro wrestling itself. You can book your would-be star to beat everyone in the company, stick a mic in their hand, or build up hype with flash vignettes. Alternatively, you can have Brock Lesnar give them the seal of approval, and most likely they'll be away.
The opening third of 2020's men's Rumble was totally dominated by Brock Lesnar. The reigning champ didn't fancy fighting anyone at WrestleMania, and so entered the match first, chucking everyone out with ease. For some, this was a trying watch, for others, a perfect build.
Either way, it was worth it for Lesnar's reaction on seeing Keith Lee stroll to the ring. The Beast goes from cocky to excited, ready at last to lock horns with a man of similar stature. Showing his willingness to work when he wants to, Lesnar cheerfully exclaims "big boy!" before the two titans lock horns in what would be a dream match.
Lee, then a top NXT star, had all the makings of a perfect WWE wrestler with his smooth style, character, and mic skills. After a great Survivor Series showing, this was all he needed to tip him over the edge when he hit the main roster. Or, he was fired half a year later after being renamed "Bearcat". Hard to remember which. The moment will live forever, though.