10 Amazing Wrestling Moments That Came Totally Out Of Nowhere
9. Roderick Strong Becomes Undisputed - WWE NXT TakeOver: New Orleans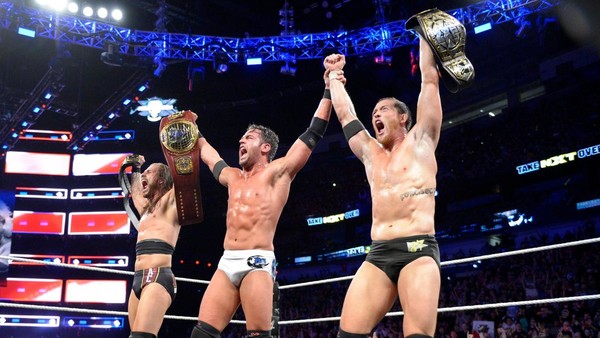 Jumping back to November 1, 2017, a certain Roderick Strong opting to turn down the opportunity to become the newest member of the Undisputed Era on an episode of NXT helped to set the stage for the long-awaited return of all things WarGames.
And it was that violent swerve a few months earlier that helped to completely conceal any concept of the back-breaking star ever aligning himself with the likes of Adam Cole, Bobby Fish, and Kyle O'Reilly heading into TakeOver: New Orleans's NXT Tag Team Championship Dusty Rhodes Classic triple-threat final.
With Cole and O'Reilly trying to stave off the challenge of the Authors of Pain and Strong & Pete Dunne without the help of an injured Fish, the group's usual numbers game seemingly not being there to call upon looked destined to lead to an NXT Tag Team Championship loss.
But little did fans know that ol' Roddy had actually planned on sticking the knife into his Bruiserweight partner, with his deeply unexpected turn even catching Cole and O'Reilly off-guard on the night - a development that subsequently led to one of the most deliciously smug grins of AC's career.
Few moments are as fun to watch for the jaw-dropping action in-between the ropes as they are for the simply stunned reaction from all those in attendance.
This is one of them.