10 Amazing Wrestling Moments That Came Totally Out Of Nowhere
8. The Rock Joins The Corporation - WWE Survivor Series 1998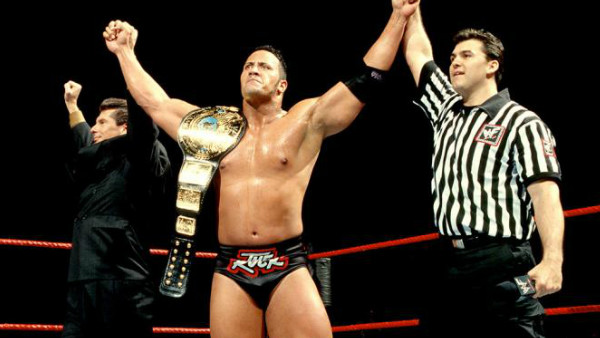 In a far simpler time, one free of Twitter apps and constant spoiler-ific leaks heading into an upcoming PPV, WWE and Vince Russo managed to pull off an utterly masterful piece of unanticipated business under the bright lights of Survivor Series 1998.
With The Rock very much butting heads with his boss in the lead-up to that year's edition of the big-four event, one that saw some of the company's finest battle it out in a tournament to crown a new WWF Champion, everything looked to be pointing towards Vince McMahon doing everything in his power to get his top strap on his apparent new chosen one Mankind.
But in a moment that evidently riffed on the controversial events that had gone down at the event one year earlier, Mr. McMahon's ringing of the bell without Mankind even hinting at submitting to a Rocky Sharpshooter in the final set the table for a hug heard around the world.
Just like that, a star that was finally starting to click with those inside arenas and at home as a beloved anti-hero well and truly turned his back on "the People". And likely led to an entire generation suffering from WWE trust issues going forward...